Carmen Oviedo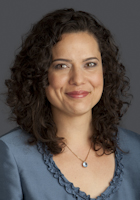 Carmen is a founding partner of Stanton Blackwell, LLC, a consulting firm serving the strategic, operational and financial needs of organizations focused on building communities, particularly in the areas of financial inclusion and affordable housing.
She joined the Doorways board in 2016 because the cause is personally meaningful and the organization's staff and services have an incredible impact on the community. Doorways offers holistic services to transition people out of family homelessness and domestic violence, not simply safe shelter during a time of crisis.
Carmen lives in Arlington, VA and enjoys traveling with her family and cooking.