House Warming Baskets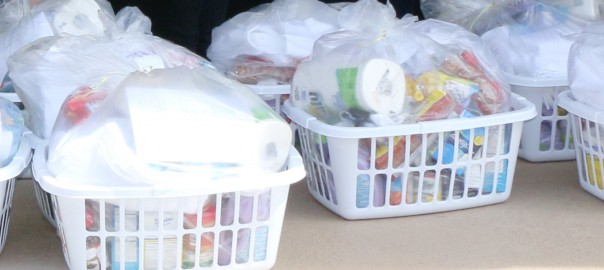 Help Families Start Over
Doorways' HomeStart Supportive Housing Program offers at-risk families the assistance they need to begin living independently. HomeStart offers residential stability and intensive support in goal planning focused on educational, employment and financial skills. When these families are ready to move into their first HomeStart home, Doorways presents them with House Warming Baskets filled with new supplies for their fresh start.
How You Can Help
Get your family, co-workers or church group involved to build House Warming Baskets to welcome new HomeStart families to Doorways. This is a great team-building activity that allows groups to make an impact on the lives of individual families in your community!
The baskets should include any or all of the following new items:
General Household Items
Paper towels and glass cleaner
Handheld vacuum cleaner
Broom and dustpan
Mop, bucket and floor cleaner
Kitchen Items
Kitchen cleaner
Trash bags and trash can
Dish soap and sponges/scrubbers
Dishwasher detergent (powder only)
Bedroom Items
Laundry basket
Laundry detergent (liquid or pods; no powder)
Sheets (twin sheets only)
Pillows
Bathroom Items
Towels (hand and full-body)
Bathroom cleaner
Toilet brush and toilet cleaner
Items for Success
Day planner for tracking finances
Gift cards to Safeway, Giant and/or Target
To learn more about creating House Warming Baskets for Doorways' clients, please contact Veronica Floyd at (703) 504-99293 or VFloyd@DoorwaysVA.org.