12 Ways to Support Doorways during the Holidays
Everyone deserves a holiday season filled with joy, peace, and hope. Every year, we rely on our caring community to help provide those gifts to children, youth, and adults in our programs. The holidays can be a difficult time for Doorways clients – they are working so hard to heal and rebuild their lives. Your generosity lifts their spirits every year. Here are 12 ways to make a difference this season to help ensure that families overcoming homelessness and abuse enjoy a season of good tidings!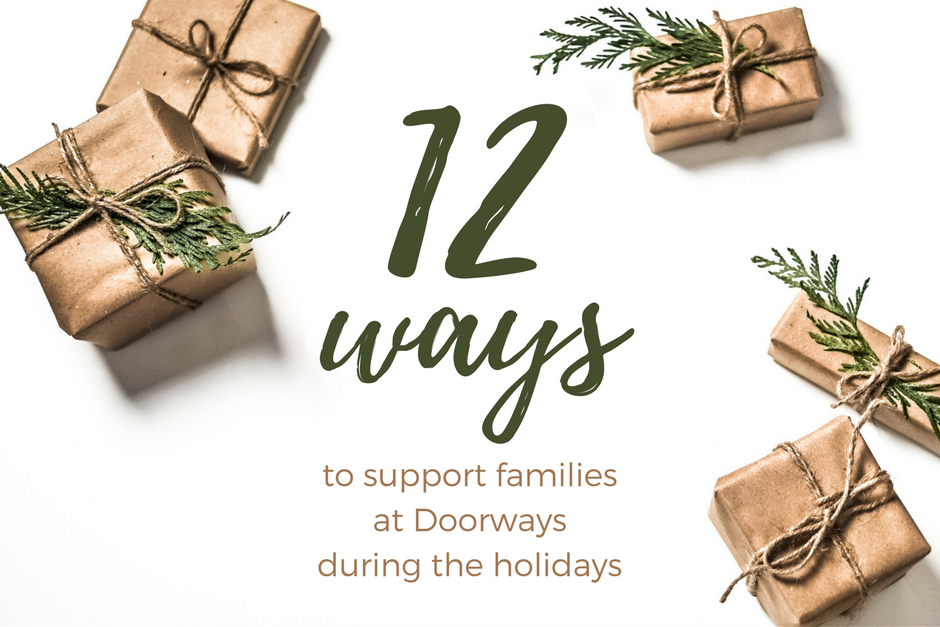 For specific ways to get kids involved this season, visit our Kids' Corner.
1. Give the gift of hope from harm and homelessness.
Give the gift of safety and stability by supporting Doorways' life-changing programs and services. Your support will provide much more than shelter to individuals and families at Doorways. Donate now. Want to do more? Provide sustaining support all year long by making your gift monthly!
2. Make wishes come true.
Support individuals and families by fulfilling wish lists and making this holiday season that much brighter. To learn more about our holiday giving campaign, contact Anna MacNiven, Development Associate, at (703) 504-9291 or AMacNiven@DoorwaysVA.org.
You can also send gifts directly via Amazon. See our gift list here.
3. Stock our shelters with supplies that help families feel at home.
Our emergency shelters are the center of our supportive services. From our bedrooms to our playrooms, each area of our shelters plays such an important role each day for our families. Help replenish much-needed supplies for our Freddie Mac Foundation Family Home and Domestic Violence Safehouse and Safe Apartments. See our needs.
4. Shop Doorways' online wish lists.
Shopping Doorways' Amazon Wish Lists is a quick and easy way to help during the holidays and all year long. Purchase any of our urgently needed items through Amazon to have them shipped directly to Doorways for fast and hassle-free delivery. Thank you for your support! Shop our wish lists now.
Choose a shipping address: To ship to Doorways directly, please select "Doorways for Women and Families' Gift Registry Address."
Choose gift options: Please leave your name, address and contact information in the "Gift Message" section. This information will then be printed on the gift receipt. Otherwise, we will not know the gift came from you. Save gift options and continue with your checkout as normal. Thank you for your donation!
5. Give the gift of choice with gift cards.
Empower your neighbors at Doorways by donating a gift card today! While Doorways is able to connect parents with in-kind donations of diapers, pack-and-plays and other necessities, gift cards give them the flexibility to fill in the gaps themselves, plus the satisfaction of being able to shop and provide for their family.
Gift cards can be mailed to:
Doorways
ATTN: Development
P.O. Box 100185
Arlington, VA 22210
To coordinate an in-person gift card drop off, please contact us.
6. Host a donation drive.
Together we can achieve so much! Coordinating and hosting a collection drive is a fun and rewarding way to give back to your community. Rallying together friends, family, co-workers and/or your church family for a party or fundraiser can be a fun way to build your community and help a local cause at the same time! You can host a gift card drive in your office or a supply drive between your friends and family—every donation goes a long way toward helping our families. For more information about hosting a holiday collection drive, please contact Anna MacNiven at (703) 504-9291 or AMacNiven@DoorwaysVA.org.
7. Incorporate Doorways into your holiday celebrations.
Help Doorways maintain our current and newer services that bring people to safety and meet the long-term, more complex needs of our clients. Create and personalize your fundraising page now to invite your friends, family and colleagues to join you in creating pathways out of abuse and homelessness toward brighter futures! Create your own page now.
8. Do your holiday shopping at AmazonSmile.
Shop at AmazonSmile! It's the same Amazon you know and love, but AmazonSmile will donate 0.5% of the price of your eligible purchases to Doorways after you select us as your charity of choice. Sign in and get started.
9. Create a family giving jar.
What better time than the season of giving to start an ongoing tradition of charity? Giving jars can be a great way to keep compassion, gratitude and generosity central to your child's life. Creating the jar can be a fun family project; decorate an old jar, coffee can or other container, and decide when gifts will be added. Once you've determined how you'll use it, place it in a central location in your home so everyone remembers to participate. Learn more.
10. Add Doorways to your grocery list.
Adding Doorways to your grocery list is another great way to keep giving to Doorways top of mind. Like the giving jar, create a bag or box in your kitchen or pantry. Every time you go to the grocery store, buy an item that Doorways needs—see our urgent needs list for examples—and add that item to the bag. Once it's full, schedule a time to deliver the contents to Doorways. During the holidays, extended family members can also be invited to participate, offering you an important opportunity to share about the project and engage your loved ones in your efforts.
11. Talk about it.
Especially as we take time to count the things we're grateful for, consider what life might be without those things: a safe place to call home, a loving partner or family, economic stability, and more. Raising awareness of the challenges facing our neighbors who are experiencing or escaping abuse and homelessness is a critical part of creating change in our culture. As simple as it may seem, it's important to talk about the issues of youth and family homelessness, domestic violence and sexual assault. By bringing these often hidden issues to the forefront, we're better able to support our neighbors, address these issues, and create a more peaceful community. Whether you talk about it around the dinner table at home, during Sunday School at church, in the elevator after work, or in your favorite coffee shop, you can make a difference simply by making conversation.
Wondering how to bring up these topics with kids? Visit our Kids' Corner for a recommended reading list and discussion guide!
12. Support anyone who's experiencing abuse with our helpful tips.
As a friend, family member or co-worker of someone in an unhealthy or violent relationship, you may be the first person to recognize your loved one is not safe. There are many things you can do to maintain your relationship with them and assist them in building a safety net for them, their children and their pets. Here are a few suggestions.
When a friend, family member or coworker discloses that they have experienced sexual violence, including rape and sexual assault, you may be the first person with whom the survivor shares their story. The assault may have happened recently or long ago. Your reaction to their disclosure is critical. There are many things you can do to support the survivor and empower them in their healing process. Learn more.
You may also call the Doorways' 24-Hour Domestic & Sexual Violence Hotline at 703-237-0881 to discuss your situation and the resources available. Counselors are always available to support you as well as your loved one.