Week of Action (October 18-24)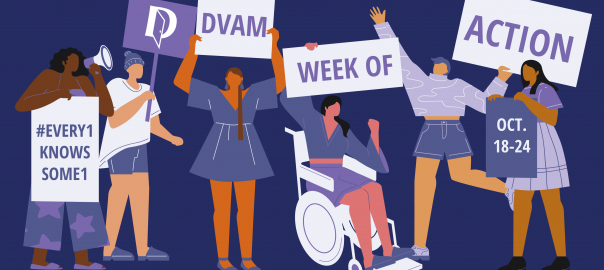 Join Doorways, NNEDV, and partners across the nation and take action during Domestic Violence Awareness and Prevention Month in October. This year's campaign theme, #Every1KnowsSome1, strives to highlight how common domestic violence is and that it is more than physical violence. Join the national Week of Action October 18-24, 2021 to raise awareness, get involved, engage your community, and make a difference.
Media Monday (October 18) – Share a piece of media on your own social channels that bring awareness to domestic violence (e.g. Maid on Netflix), and tag Doorways as your local resource for survivors.
Twitter Chat Tuesday (October 19) – Join Doorways, NNEDV, and more domestic violence agencies and advocates throughout the day as we answer questions on Twitter.
Do Work Wednesday (October 20) – We all have a role to play in ending domestic violence. Visit www.doorwaysva.org/join-our-cause for ways to do the work with Doorways!
Purple Thursday (October 21) – Wear purple today to show your support for survivors and your commitment to ending violence. Download Doorways' Purple Thursday Outreach Kit to raise awareness, inspire action, and create change.
Philanthropy Friday (October 22) – Survivors and programs urgently need financial support. Make your gift and make a difference at www.doorwaysva.org/donate, or use our fundraiser toolkit to create your own fundraiser now: https://bit.ly/Doorways_Fundraiser_Toolkit.
Speak Up Saturday (October 23) – Policy and advocacy are key to our work to end domestic violence, and we need your voice to make a difference. Use this guide from the Virginia Sexual and Domestic Violence Action Alliance to tell your representatives what is important to you: vsdvalliance.org/advancing-policy/tell-your-representatives-whats-important-to-you.
Sharing Sunday (October 24) – Domestic violence can happen to anyone, and it's likely happening to someone close to you. Today is a perfect day to share Doorways' 24-hour hotline (703-237-0881) and more resources: www.doorwaysva.org/get-help. Already know of someone experiencing abuse? Visit www.doorwaysva.org/how-to-help for our tips on how to help.