Sexual Assault Awareness and Prevention Month (SAAPM): 5 Ways to Take Action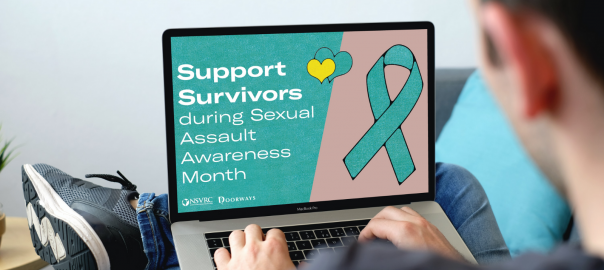 April is Sexual Assault Awareness and Prevention Month (SAAPM). Join Doorways by raising awareness about the issue and the many resources available to survivors. Act now!
5 Ways to Take Action
1) Request a workshop for youth or adults.
Complete our online request form to request a workshop, invite Doorways to table at your event, and more.
2) Talk with kids:
Host a family movie night! Check out The Workshop at Doorways' movie night discussion questions for kids and families.
Read age-appropriate books about important topics like consent, boundaries, and more. See our reading list.
3) Share Doorways' resources.
4) Turn teal to raise awareness.
Turn your social media profile pictures teal for SAAPM, and use this virtual background to raise awareness.

5) Attend an event or participate in an awareness day:
Share your support on social media and tag @doorways_va on Instagram; @DoorwaysVA on Twitter; and Doorways on Facebook (please make post public). You can also email your pictures to LBeckbridge@DoorwaysVA.org.
Persist past April.
April is just one month of the year, but it's important to raise awareness, share resources, and support survivors all year round. Join our cause!
The Facts About Sexual Assault
Resources for Survivors of Sexual Assault in Our Community
Through our 24-Hour Domestic & Sexual Violence Hotline, Doorways offers survivors:
Learn more about our immediate, safe response and how to get help for yourself or how to help a friend.