Sew Cloth Face Coverings for Doorways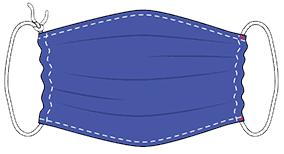 April 9, 2020 — "CDC recommends wearing cloth face coverings in public settings where other social distancing measures are difficult to maintain (e.g., grocery stores and pharmacies), especially in areas of significant community-based transmission.
CDC also advises the use of simple cloth face coverings to slow the spread of the virus and help people who may have the virus and do not know it from transmitting it to others. Cloth face coverings fashioned from household items or made at home from common materials at low cost can be used as an additional, voluntary public health measure."
See the latest information from the CDC here.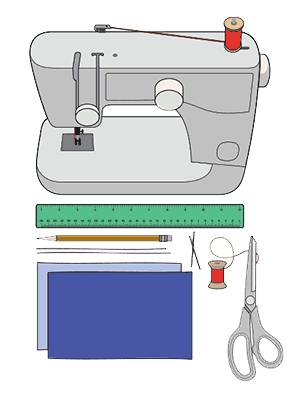 Materials
Two 10"x6" rectangles of tightly woven cotton, such as quilting fabric or cotton sheets
Two 6" pieces of elastic (or rubber bands, string, cloth strips, or hair ties)
Needle and thread (or bobby pin)
Scissors
Sewing machine
Sewing Tutorial
Visit the CDC website for step-by-step instructions for making cloth face coverings.
Doorways needs coverings for our staff and clients, including adults, youth, and children.
Option 1: Mail
Mail completed cloth face coverings to Doorways at P.O. Box 100185, Arlington, VA 22210. Please include a note with your name and contact information so that we can thank you for your gift!
If you have any questions about mailing donations, or if you are interested in donating additional items by mail, please contact Anna MacNiven at 703-504-9291 or AMacNiven@DoorwaysVA.org.
Option 2: Dropoff at Drive-Thru Deeds
Deliver your cloth face coverings in person on Fridays from 11:00 a.m. to 1:00 p.m. at Doorways' Drive-Thru Deeds.
Please contact Joy Myers at JMyers@DoorwaysVA.org or (703) 504-9290 for drop-off instructions. When you arrive, a staff person will come out to meet you at your car and accept your donations.