A Few Words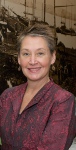 Sometimes it only takes a few words to transform an experience.
I have been a Children's Program volunteer for a little over year. Though oftentimes exhausting, my time with the children continues to be exhilarating. I always look forward to my shifts with enthusiasm and anticipation. I particularly enjoy the spontaneity, the humor, the curiosity and the creative spirits I see in each child which seems to bring out the child in me. For several hours each month, I get to be seven once again, and play. Certainly, while there is some overlap, each experience is different, for each child is a precious little person with their own unique personality.
I had been volunteering for about seven months and was feeling comfortable and competent – always learning from staff, from other volunteers and from the children as well. This particular evening the other volunteer and I were advised that a new family had arrived and that we should be alert to dramatic outbursts of behavior by the three-year-old. Evidently, the home environment had been particularly rugged for this child and he acted with aggression and streaming colorful language. My first meeting with this child occurred while I was sitting on the floor with the other children. He bounded into the room, full of energy and flashed a brilliant winning smile. He was absolutely angelic and promptly settled in my lap with a big "Hi." Of course, he won me over instantly. The staff had to be wrong about this child. They weren't.
For the next two hours the other volunteer and I had our hands full. He was every bit the challenge that we were told. Hitting, screaming and throwing outbursts that would last less than a minute contrasted with doting attentiveness and playful interaction. At the end of the shift, I was feeling like a miserable failure. I felt so inadequate. We did our best, but I felt like my best was not enough. The other volunteer and I left, as we often do, to a chorus of good-byes and thank yous from the children, except one. At the moment before we closed the door to exit there was one solo voice that was hollered from the other room; "I love you," he said. And we walked down the steps smiling.
—Tani Lublin, Doorways Volunteer since 2011