Journey to Confidence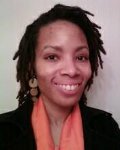 I volunteer for numerous organizations and wanted to add another one to my list. Many months before I became a Doorways volunteer, I attended their Brighter Futures Breakfast. I got to hear a few former Doorways clients speak. One of the former clients told the story of how she went from living in her car to becoming self-sufficient and being able to provide a better life for herself and her son. This cemented my interest in volunteering at Doorways.
It took a while before I became an actual volunteer. Due to scheduling conflicts, I would not be able to start training to be a volunteer until the winter of 2011. At first I thought I would be a storage volunteer, working in the Family Home's basement storage room, sorting goods and supplies and minding my own business. But, I felt it would be a better idea to be a Family Home coverage volunteer. It was a chance for me to stop hiding and to put myself in the forefront.
The training was an interesting experience. I learned a lot, met great people and even won a Doorways clip magnet for managing to memorize the names of all my fellow volunteers-in-training without the use of name tags. I achieved that because I care about people and feel that remembering names is a sign of respect.
During a shadowing session before I was set to start my first shift as a Family Home Coverage Volunteer, one of the former evening Home Coordinators left me with parting words that I will never forget: "You can make no mistakes." Just showing up to volunteer was enough, and even though I'd be flying solo covering the weekend shifts, I knew I had on-call support if need be.
I was nervous during my first few shifts. Some clients felt I overdid my walk-throughs, and I got a few phone calls that threw me off guard. Speaking to the on-call staff during these times was a great help, and as time passed I've become more confident in who I am as a Doorways volunteer. I am more familiar with Doorways' policies, answer the phone more confidently, and some clients have even warmed up to me.
I also spent a year as a Read-Aloud Volunteer at Doorways via The Reading Connection, an organization that works to share the joys of reading with at-risk youth. Volunteering in the reading program was very important to me as a woman of color. Growing up, I loved to read and was made fun of because reading was a "white" thing to do. When children of color see an adult of color loving to read, it lets these kids know that reading isn't something that only one race enjoys, it is something everyone should enjoy. The same goes for being a coverage volunteer of color. While I may not have been through the same experiences as Doorways' clients have, it helps for them to see a "familiar face."
It has been one year since I've started as a coverage volunteer at Doorways. As I submit this story, I have clocked almost 70 hours at the Family Home providing coverage and counting. It's been a great experience so far, and I look forward to what the future at Doorways will bring.
—Dienna Howard, Doorways Volunteer since 2011