Stepping Stones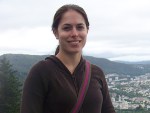 Small stepping stones leading up to a welcoming front door. That's what I think of when I explain how Doorways became a part of my life. After living in Arlington for a few years, I began to miss the sense of community I had growing up in a small New England town. I finally had the time to volunteer on a regular basis, and so I looked at local organizations. As an alumna of a women's college, I've always been passionate about women's rights and issues. Doorways seemed like a perfect fit.
One of the most important stepping stones is my experience working with Ukrainian women during my Peace Corps service. Through broken Russian and English, I became friends with several of the women who were also teachers in the high school where I worked. As we know, domestic violence is in every culture. In Ukraine, it is more hidden than here in the U.S, as it's still talked about in hushed voices and considered a private family matter.
Larisa was my colleague and my Russian tutor. She amazed me with her ability to speak English even though I was the first native speaker she had ever met. I don't remember how it got brought up, but a few times she made passing remarks about how her husband had hurt her. Due to the language barrier, it was hard for me to tell exactly what she meant, but after observing her for awhile I highly suspected she was a survivor of domestic violence. I regret not fully reaching out to her, but I felt helpless. I was the lone foreigner in a small town and I lacked fluency to find out what resources, if any, were available for her. My experience with Larisa inspired me to find a way to reach out to survivors of domestic violence.
The training that Doorways has provided me the tools to not only help the women during my Safehouse shifts, but to help women like Larisa wherever I go in my life. She is my inspiration to speak up and reach out no matter how helpless I might feel.
—Jessica Ferro, Doorways Volunteer since 2011