#Knowthe5: Back to School
As fall approaches each year, children across our community share excitement for the first day of school. However, hundreds of children also feel anxious; with shelter being their family's primary concern, school supplies and extracurricular activities often take a back seat.
#Knowthe5 to understand the impact that homelessness has on kids in our community, as well as how you can support them through our Back to School campaign to ensure that children at Doorways have the same opportunities to make the most of their academic experience.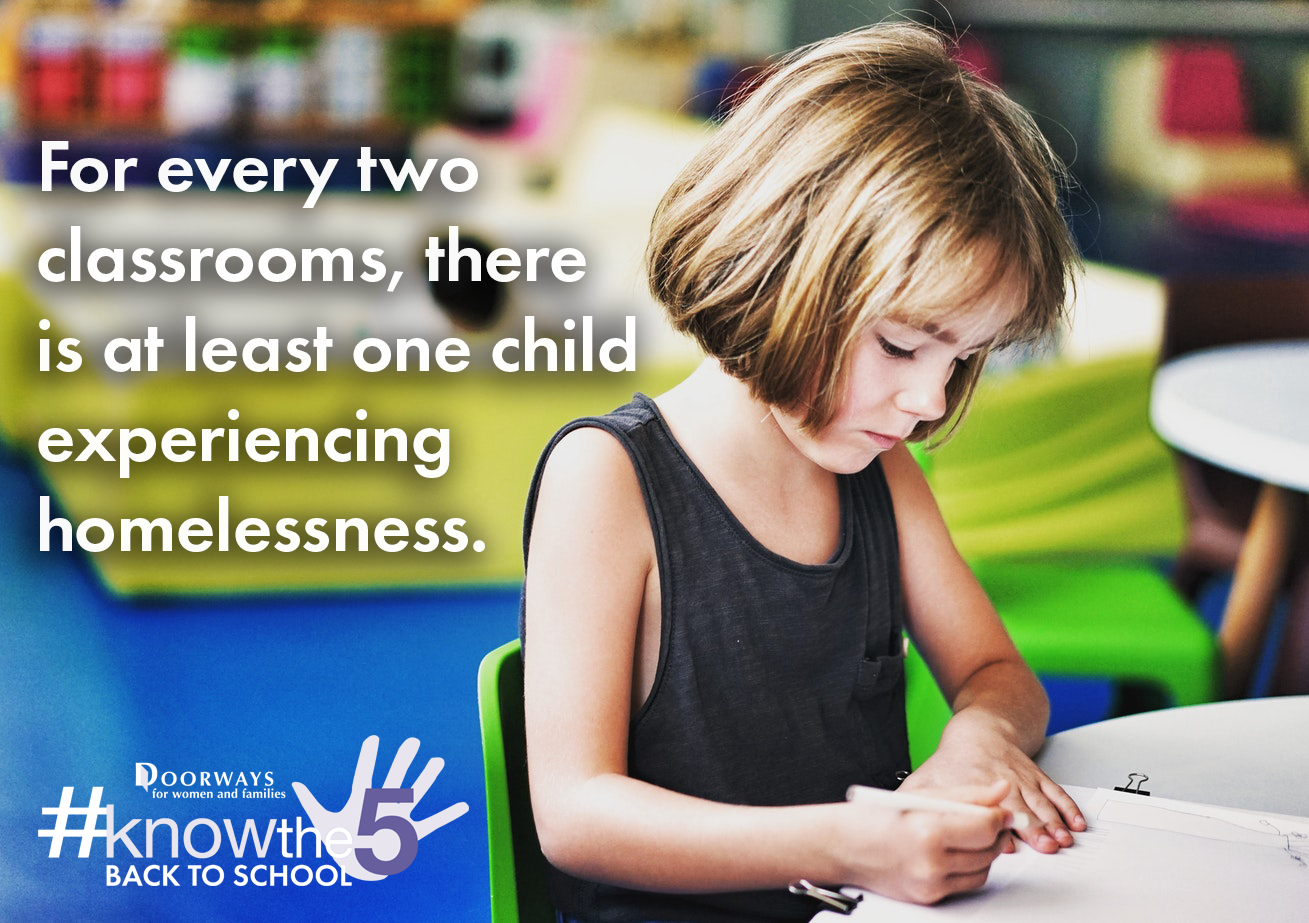 1. 1 in 30 children experiences homelessness.
That's almost one child per class (average size of 21-27, depending on the grade). Additionally, 51% are under age five, the Bassuk Center reports, experiencing homelessness during the critical developmental period of early childhood.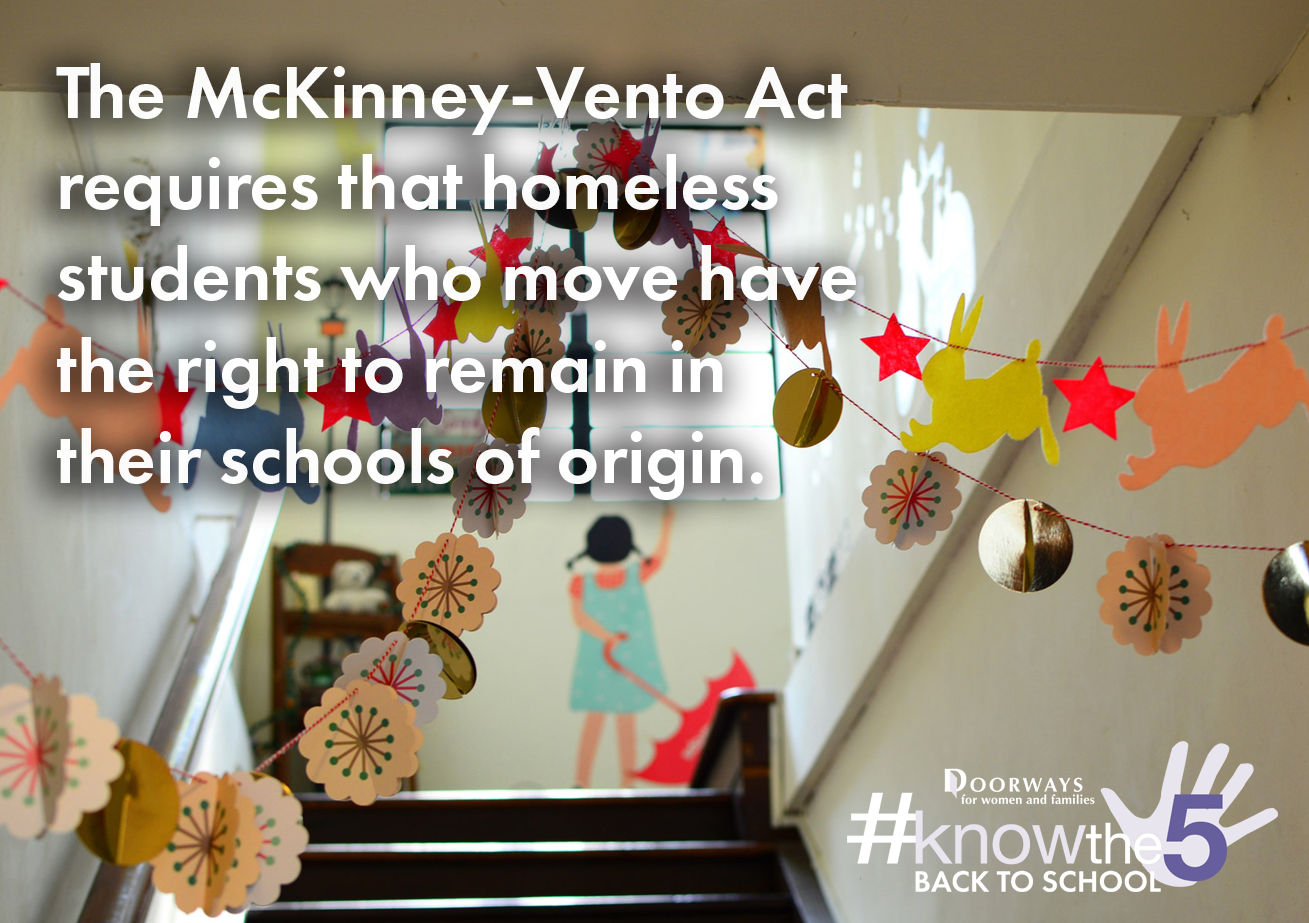 2. Students experiencing homelessness don't have to switch schools when they move.
The McKinney-Vento Act helps ensure that the needs of students experiencing homelessness are met. The Act requires that homeless students who move have the right to remain in their schools of origin (if that is in the student's best interest), and transportation must be provided to or from a student's school of origin. Learn more.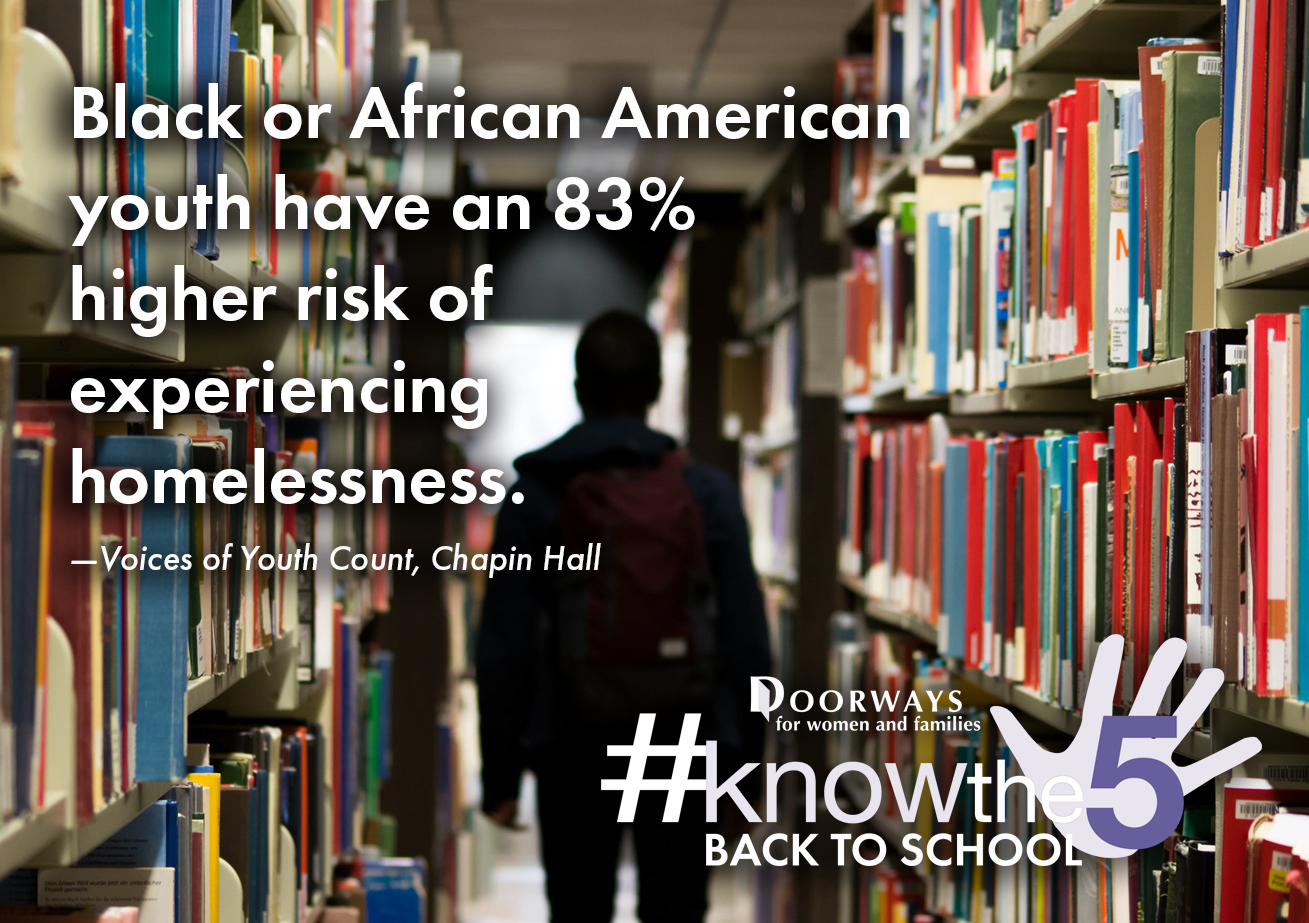 3. Students often live at the intersections of poverty and multiple forms of oppression.
For example, Black families are disproportionately represented among homeless families with children, Child Trends reports. "People of color are dramatically more likely than White people to experience homelessness in the United States," reports the Center for Social Innovation. "This is no accident; it is the result of centuries of structural racism that have excluded historically oppressed people-particularly Black and Native Americans-from equal access to housing, community supports, and opportunities for economic mobility." Read more. Programs and services supporting children and families must include a focus on these oppressions in their approach to addressing homelessness.
Although Black people comprise 13% of the general population in the United States and 26% of those living in poverty, they account for more than 40% of the homeless population, suggesting that poverty rates alone do not explain the over-representation.

—Supporting Partnerships for Anti-Racist Communities Phase One Study Findings, Center for Social Innovation
Additionally, many families experience homelessness due to domestic violence. In fact, domestic violence is a leading cause of homelessness for women and families. According to multiple studies examining the causes of homelessness, among mothers with children experiencing homelessness, more than 80% had previously experienced domestic violence, the Family & Youth Services Bureau reports. Trauma-informed programs and services are critical to meeting the varied needs of children and families experiencing homelessness.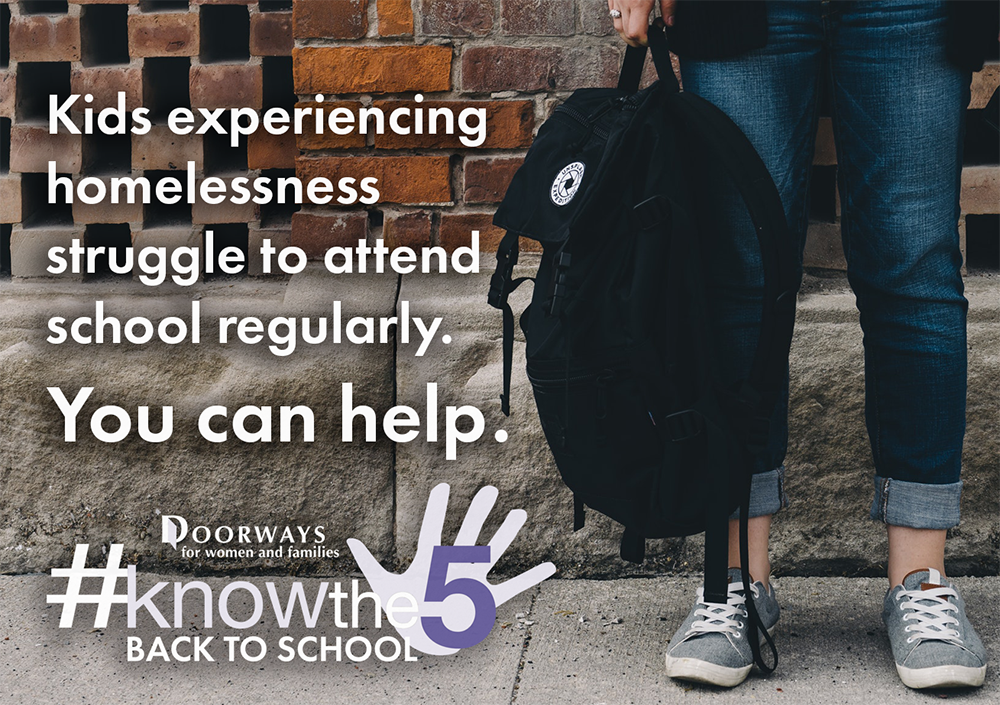 4. Experiencing homelessness makes it hard to thrive and stay in school.
"Children who are homeless experience high rates of physical and mental health problems, and delayed development in early childhood," the Bassuk Center reports. "Homeless children struggle to attend school regularly. Many change schools during the academic year, fall academically behind their peers, are subject to higher rates of school discipline, and drop out of school more frequently." Learn more.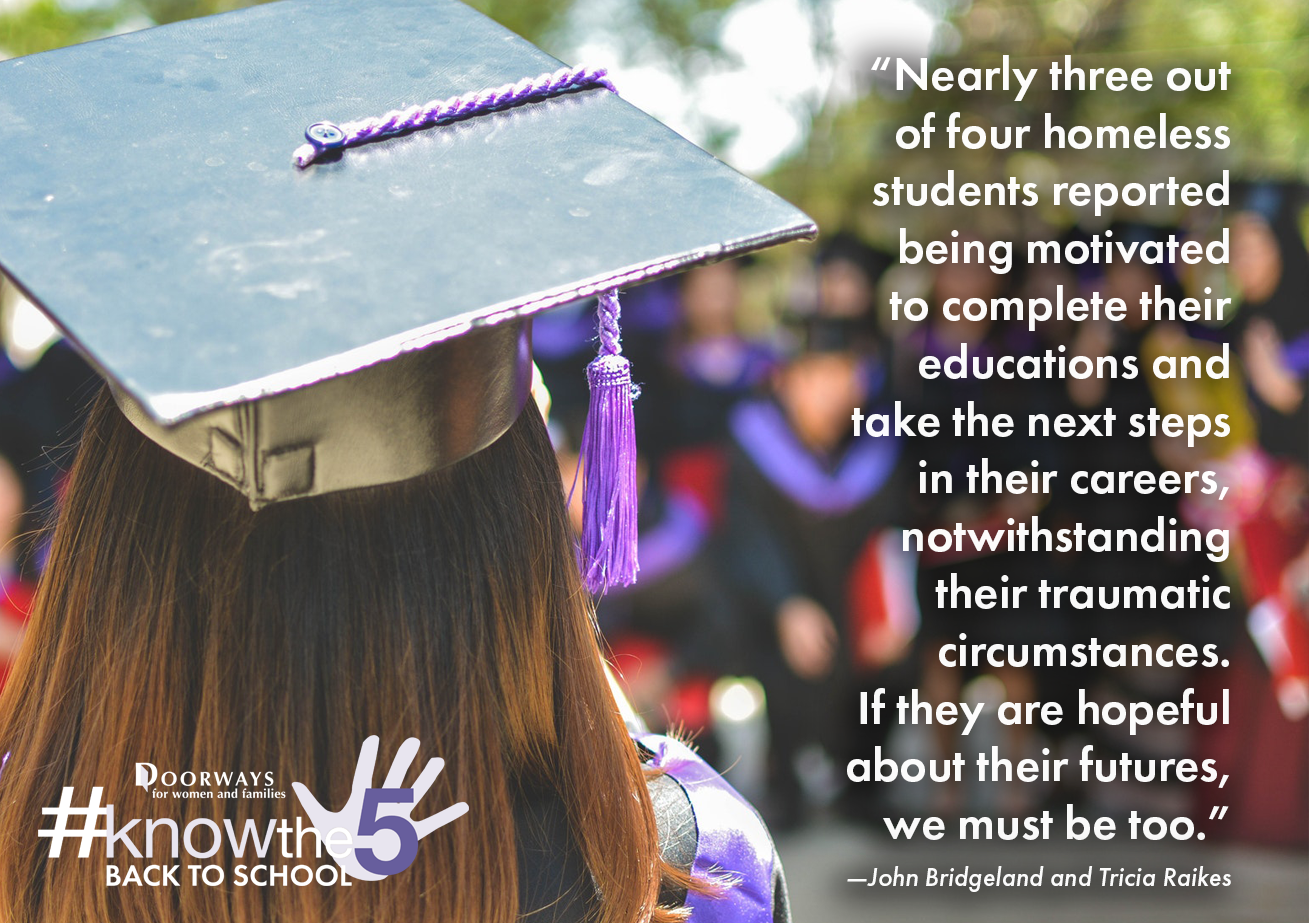 5. Change is in your hands.
Doorways' Back to School campaign supports all of the children in our shelters and housing program as they start the new school year. Through this campaign, generous community members like you supported more than 85 children last year alone.
There are three main ways to give:
Donate money to cover school expenses (using the form below) such as medical check-ups, extracurricular activity fees, after-school care and more throughout the year.
Donate gift cards to empower our clients to choose their own school clothes and more.
Sponsor a child by fulfilling their back-to-school supply shopping list.
With your support, children at Doorways receives wraparound support to heal from their past experiences of homelessness and abuse, enabling them to focus more on learning and having fun in school. Perhaps most importantly, your support helps children at Doorways simply be kids!
A young person's housing situation should have no bearing on their access to opportunity. When students experiencing homelessness don't get a fair shot at graduation or a pathway to success we deny them the American Dream. Nearly three out of four homeless students reported being motivated to complete their educations and take the next steps in their careers, notwithstanding their traumatic circumstances. If they are hopeful about their futures, we must be too.

We owe it to our kids and our country to rise to this challenge and ensure the homeless students of today do not become the homeless adults of tomorrow.

—John Bridgeland, Civic Enterprises, and Tricia Raikes, Raikes Foundation, leaders in the Education Leads Home campaign