Financial Independence Track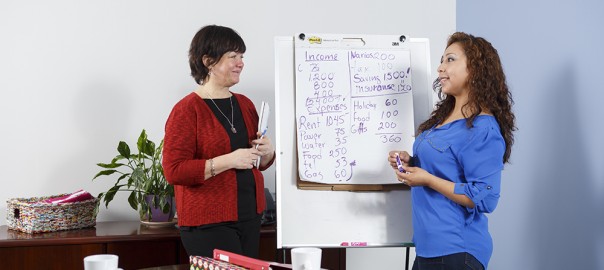 Providing interactive, individualized financial education on budgeting, saving and debt management, as well as employment and career counseling to help our clients achieve economic stability
In many cases, living in abuse and instability diminishes one's opportunities to gain financially. Clients come to our programs with debt ranging from $2,000–$60,000 and annual incomes from $6,000–$24,000. They are often challenged by low self-esteem, depression and feelings of guilt and fear, leading to severe deficits in their sense of empowerment over their finances.
Our Financial Independence Track (FIT), Doorways' economic empowerment program, addresses those issues with concrete, practical financial education that teaches money management and financial decision-making skills. Our specially trained financial counselors empower clients to manage their daily finances, gain control over their debt and create a financial safety plan. FIT helps to increase the cumulative wealth of our families through enhanced earnings, entitlement program maximization, debt reduction and cost savings. Doorways' financial counselors work with adult clients in our HomeStart Supportive Housing Program, Freddie Mac Foundation Family Home and Domestic Violence Safehouse to ensure a continuum of care and support.
FIT and Domestic Violence
For a survivor of domestic violence, employment is always in danger of being lost. Employment can be interrupted if a survivor flees an abuser or lost due to on-the-job harassment by an abuser. In addition, survivors often lose control of their finances and suffer economic abuse at the hands of their abuser. This can take the form of misuse of their credit cards and bank accounts.
FIT and Homelessness
Adults experiencing homelessness typically arrive at Doorways with challenged financial management skills and a constant cash shortfall to pay expenses. As a result, our clients often find themselves with excessive debt, a poor and highly damaged credit rating, past evictions and minimal knowledge of managing their own finances successfully. This is where our work comes in.
How Financial Counselors Assist in Finding Solutions
Understand clients' personal financial situation
Assess and address clients' financial risk, including how to set up and review open accounts for security and necessity
Improve clients' understanding of basic money management concepts centered around creating monthly spending plans
Help clients understand strategies to reduce their debt
Aid clients in understanding their rights, how to communicate with collectors, and address specific debt which may prevent living independently
Create clients' own bank accounts separating their association with their abuser's finances
Live self-sufficiently and independently
Workforce Development
Based on the success of Doorways' financial education model, financial counselors began partnering with area businesses, community groups, professional associations, and individual community members in 2014 to help create pathways to employment for our clients.
How Financial Counselors Provide Employment Counseling
Assess clients' employment history
Identify training or employment opportunities
Aid clients in preparing resume, cover letters and job searching
Practice mock interviews skills and work etiquette
Obtain and maintain sustainable employment