Impact on Children and Youth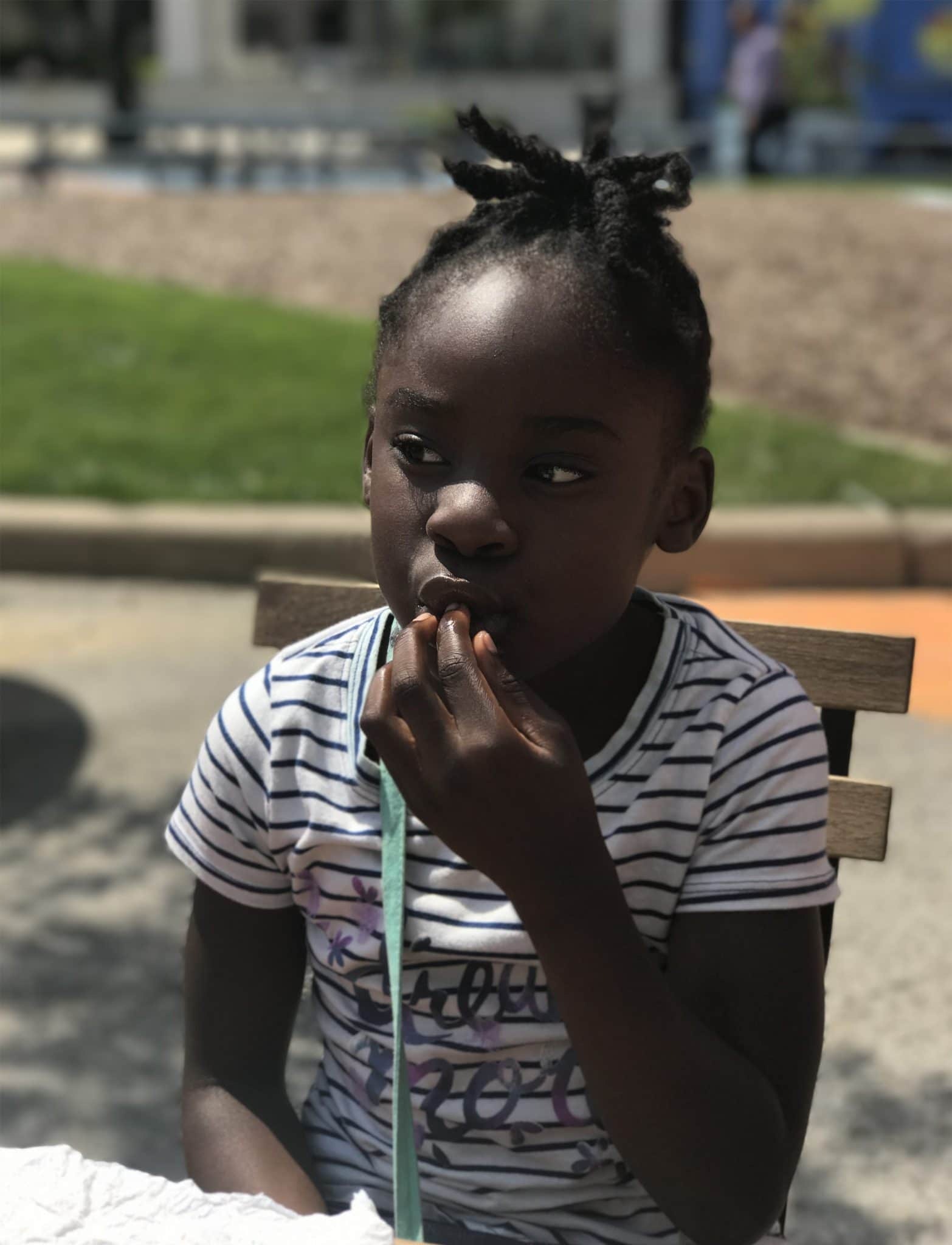 "More families experience homelessness in the United States than in any other industrialized nation," the Bassuk Center on Homeless and Vulnerable Children & Youth reports. "One in 30 American children experience homelessness annually; 51% are under age five."
Domestic violence and family homelessness impact the entire family. We offer services geared directly towards meeting the unique needs of children experiencing family violence and homelessness. From direct intervention to prevention and awareness, we address the family as a whole.
Doorways' child-focused services include physical, emotional and social support to help children heal from the traumatic effects of homelessness and domestic violence. Breaking the inter-generational cycle of homelessness and domestic violence is critical. Every child deserves to live and grow in a safe, secure environment.
Impact of Homelessness on Children
When we think about people who are experiencing homelessness, we usually think about adults. Sadly, millions of children experience homelessness every year. These children sleep in cars, shelters and abandoned buildings. Their families relocate constantly, which results in the children being pulled out of school and away from friends. Homelessness impacts children in nearly every way:
Learn how Doorways' Children's Services help children impacted by homelessness.
Impact of Domestic Violence on Children
Children who live in a home where abuse occurs are always affected by it. Research indicates that abuse in a family may be the single most important risk factor for child maltreatment. Children don't need to see the abuse to be affected by it. It is obvious that children who are abused suffer a great deal; however, children who witness abuse are similarly affected. Children also see the consequences of the abuse after it has occurred. They may observe bruises, torn clothes, broken objects, splintered furniture, holes punched in walls, swollen faces and puffy eyes. They perceive the tension and fear of the abuser and do not feel safe.
1 in 15 children are exposed to intimate partner violence each year, and 90% of these children are eyewitnesses to this violence. (NCADV)
Children are particularly vulnerable as both victims of and witnesses to domestic violence, sexual abuse and assault. In order to break the cycle of violence, we must intervene and provide services. (NNEDV)
The rate of child abuse or serious neglect in a home where domestic violence is prevalent is 1,500% higher than the national average.
Children impacted by domestic violence stand a greater chance of experiencing neglect, and more than half are physically abused themselves.
Directly or indirectly witnessing the abuse can significantly inhibit children's physical, cognitive, psychological and social development. Moreover, children are often caught in the crossfire. Youth frequently believe that they have somehow caused the violence, that if they were good enough, it would not have happened or that they could have stopped or prevented the abuse.
Common effects of domestic violence on children
Physical Abuse and Neglect: In addition to an increased likelihood of child abuse and neglect, children may be hurt while trying to protect their mother or they may get caught in the crossfire.
Physical Ailments: Children may suffer from stress-related physical ailments such as headaches, rashes, ulcers and autoimmune disorders.
Aggression & Difficulty Interacting with Peers: Some children mimic the aggression and violence they have experienced at home. Other children may become socially withdrawn as a means of keeping themselves safe.
Common Behaviors: Children may suffer from a loss of appetite, nightmares, stranger anxiety, temper tantrums and bed wetting. Often these children develop learning delays and speech or hearing problems.
Common characteristics of children from violent families
The following are common characteristics and behaviors to which children from violent families are prone. Naturally, not all such children have these characteristics, and many children manage to escape violence as fairly intact individuals. Also, many of these characteristics may be found in children from homes where there is no physical violence. However, there are certain patterns that strongly indicate experiencing or witnessing violence.
Withdrawn/apathetic behavior, childhood depression, unsocial, passive, feelings of powerlessness, moody, overly controlled, poor self-concept
Aggressive/violent behavior: anger, open rage, low frustration tolerance, poorly socialized, difficult to control, low self-esteem
Shame and humiliation in belonging to a deviant family
Feelings of guilt and responsibility for family violence
Stigma: feelings of being different
Physical fears
Fear of intimacy: distrustful, armored, vigilant
Distrustful of males (males and females)
Identification with aggressor (mostly males)
Identification with victim (mostly females)
Confused values: physical force is viewed as a legitimate means of control (particularly control of women by men); "Might is right." "Nice guys finish last."
Conflicting and ambivalent feelings and loyalties toward parents: feelings of love/hate for both parents; anger, pity and contempt for the person abused; anger, fear and respect for abusive person
Parental child: precocious mothering, role reversal
Physical problems and complaints
Learning problems
Sexual behavior seen as an expression of power and anger rather than of love and tenderness
Learn how Doorways' Children's Services help children impacted by domestic violence.
Prevention and Awareness
Teen Dating Violence: This issue is on the rise and impacts as many teens as adults. It's been estimated that almost two-thirds of tweens (ages 11-14) say they know friends who have been verbally abused (called stupid, worthless, ugly, etc.) by a boyfriend or girlfriend. Our goal is to raise awareness about this issue by helping teens recognize and call out unhealthy behaviors. Read more about teen dating violence.