Doorways and Safe Space NOVA Launch New Inclusive Sex Ed Program for Local LGBTQ+ Youth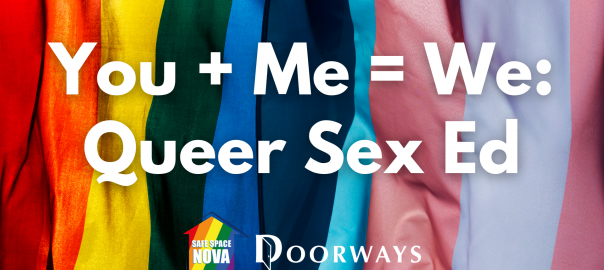 You + Me = We: Queer Sex Ed
Doorways and Safe Space NOVA are pleased to announce the launch of a new educational program focused on healthy relationships and sexual health for queer youth. The "You + Me = We: Queer Sex Ed" program will use a hybrid virtual and in-person setting over the course of four sessions that will give participants the chance to learn and ask questions about body autonomy, consent, safer sex practices, communication and boundary-setting, and more.
The goal of the program, facilitated by Doorways' Prevention Specialist Scotney Young and Of Colors Healing, Jerry St. Louis, is to educate and empower LGBTQ+ youth to help them develop the skills needed to practice safe dating, build healthy relationships, and avoid unhealthy relationships and abuse.
"When it comes to sexual and relationship health education, it is not 'one size fits all,'" said Jordan Costen-Sumpter, founder of Safe Space NOVA. "LGBTQ+ youth deserve sexual health education that is inclusive of their experiences, identities, and relationships while making sure they have accurate information to stay safe and healthy. This program is more than just sex education, we'll offer tips and tools to help youth feel safer and empowered in love, like, and anything in between."
Participants will be eligible for prizes including gift cards and more, for every session they attend with the chance to earn up to $20 in gift cards for attending. Free breakfast and snacks will also be provided. Transportation assistance is also available for anyone who needs it.  
The program will begin on September 18 and will run through mid-October. Full schedule is below:
September 18 – Orientation and introductions (in-person)

September 25 – Session 1 (virtual)

October 2 – Session 2 (in-person)

October 9 – Session 3 (virtual)

October 16 – Certificate and party (in-person) optional attendance
For more information or to register for the "You + Me = We: Queer Sex Ed" program, visit safespacenova.org/programs.
About Safe Space NOVA
Safe Space NOVA is dedicated to providing a safe, accepting, and supportive environment to combat social stigmas, bullying, and other challenges faced by LGBTQ+ youth. For more information, visit safespacenova.org.