Becoming More Askable Workshop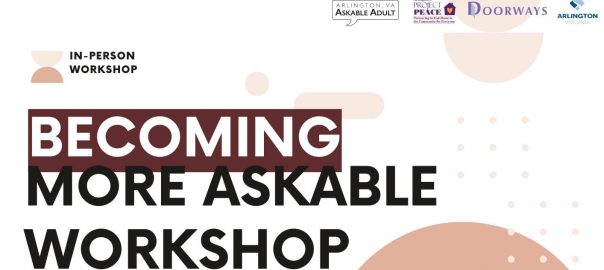 Do you consider yourself approachable for youth? Do youth come to you for support and resources about topics most important to them?
About this event
A report conducted by the Surgeon General's office revealed that having a trusted, or "askable," adult is an important protective factor for young people.
The Becoming More Askable workshop is a part of Arlington's Askable Adult Campaign that prepares any adult who supports middle and high school-aged youth by helping them identify the tools, language and strategies that foster a safe space for youth to feel empowered to discuss issues important to them. Additionally, this workshop discusses feelings, emotions, and values, as well as explores participants' personal beliefs around sensitive topics. Not to mention, participants will learn about resources to help stay current and informed.
Goals of the workshop:
Create a community of more informed, approachable adults who youth can turn to for help navigating stress and challenges on a day-to-day basis and provide youth-friendly referrals.
Learn how to become more "askable" and supportive for the youth in their lives.
Enhance skills that will enable adults to have strong, trusting and affirming relationships, communicate more effectively, strengthen connections and be a valuable resource for the young people in their lives.