Our Strategic Plan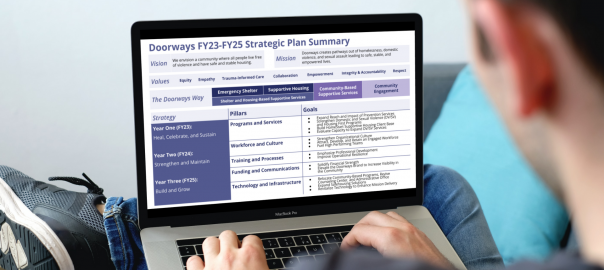 In 2022, we embarked upon a six-month strategic planning process to shape Doorways' strategic plan for fiscal years 2023 to 2025. Our goal was to build on the strong foundation Doorways established over the first 40+ years and to shape the organization moving forward.
A broad range of stakeholders contributed, including Doorways clients, volunteers, staff, and board. Results reaffirmed Doorways' vision, mission, and values, and solidified our direction for upcoming years.
About the Plan
Doorways' strategic plan is grounded in 5 Pillars – Programs and Services, Workforce and Culture, Training and Processes, Funding and Communications, and Technology and Infrastructure. The plan focuses efforts to heal, celebrate, and sustain; strengthen and maintain; and build and grow:
Year One (2023): Heal, Celebrate, and Sustain – As Doorways and the rest of the world slowly emerge from COVID-19 crisis, we recognize the tremendous challenges the organization, our people, and our clients have faced during this time. We are focusing on strengthening our culture, hiring and retaining staff, instilling trauma-informed practices via enhanced training, and expanding the reach and impact of our prevention services.
Year Two (2024): Strengthen and Maintain – We will focus on strengthening domestic violence and sexual violence programs and services, fueling high performing teams, relocating the administrative offices (due to current space being slated for demolition in 2024), and improving operational resilience.
Year Three (2025): Build and Grow – We will focus on expanding the Safehouse, building our Homestart services, elevating our brand, solidifying our financial strength, and evaluating our capacity to expand domestic violence and sexual violence programs and services.
Download a one-page summary of Doorways' 2023-2025 strategic plan to learn more:
Increasing
Need for Safehousing 
Determining how to expand Doorways' safehousing solutions was a top priority in our planning. In fiscal year 2022, Doorways provided emergency shelter to a record number of survivors escaping life-threatening abuse: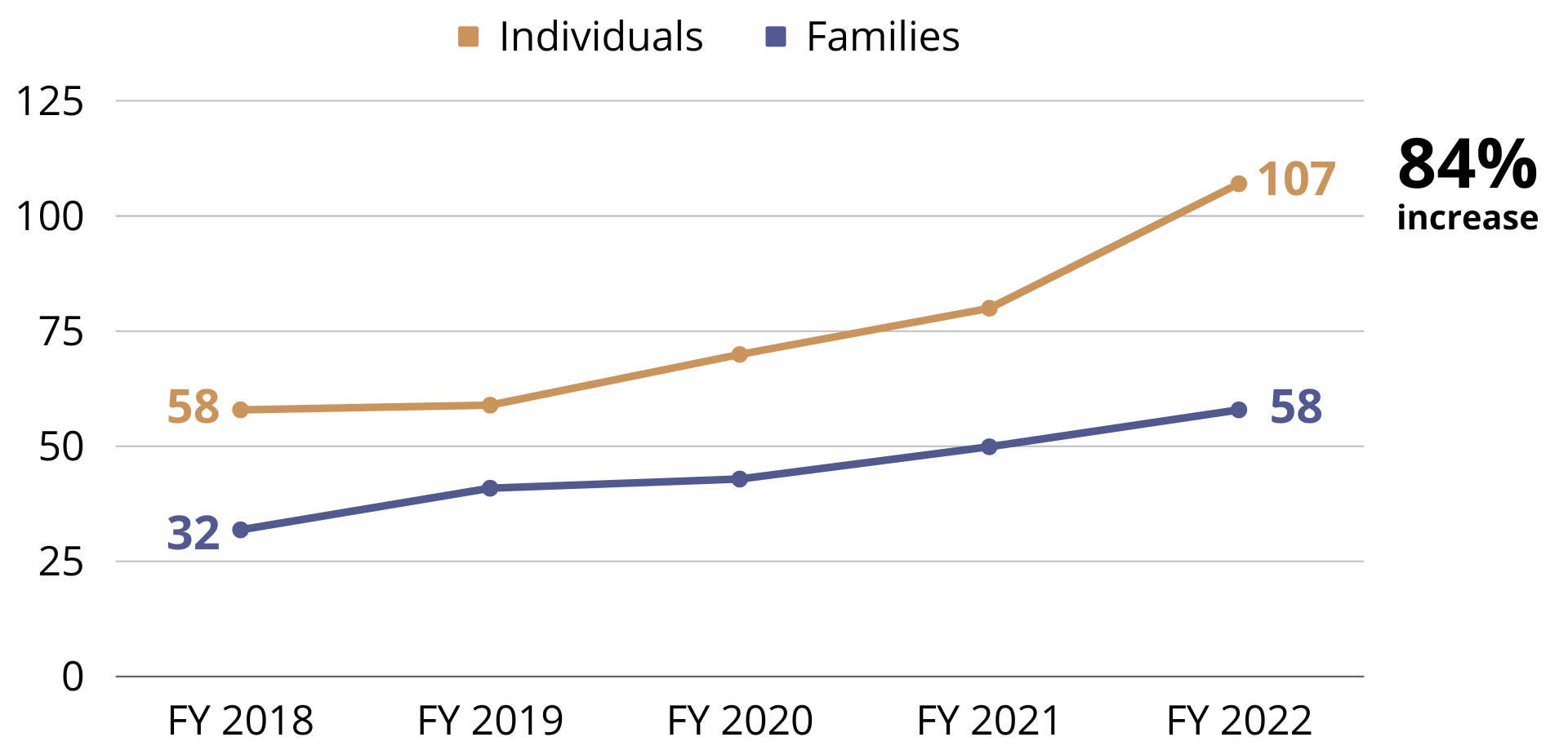 We are on track to break records yet again this year: Doorways' Safehouse operated at 211% capacity during the first quarter of fiscal year 2023, sheltering 61 survivors experiencing homelessness—more than half of the total number sheltered all of last fiscal year (107 survivors)​.
Our small, aged Safehouse, which has served us well for many years, is simply no longer adequate in meeting this need. As we consistently serve more clients than our current Safehouse facility can accommodate, the need for a sustainable alternative is paramount.
Addressing the Increasing Need
As Arlington's only provider of emergency shelter (safehousing) for survivors and their families who are experiencing homelessness, Doorways must expand its safehousing capacity to meet the need.
So, in 2024, in coordination with our Arlington County partners, Doorways will repurpose our newer, larger Family Home as safehousing for survivors and their families, and we will retire our Safehouse. Doorways is continuing to work closely with our Continuum of Care partners as we prepare for and make this shift to meet community needs, including determining the timeline to ensure survivors and families in need of emergency shelter always have uninterrupted access to safe harbor.
Despite these shifts happening with our physical shelter spaces, Doorways will continue to serve the same total number of people as before, and likely more, in our facilities which are best suited to meeting survivors' needs, while also continuing our commitment towards non-congregate spaces, such as our Safe Apartments.
We will also expand our efforts across our continuum of services before and after shelter: we are growing our HomeStart Supporting Housing Program to support more clients with complex needs after they leave shelter. We are also expanding our Primary Prevention programming to promote a community culture of safe and healthy relationships so that sexual and intimate partner violence are less likely to occur.
Join Us
From 1978 to today, Doorways has always been a group of concerned community members coming together to help neighbors in need. Doorways' mission is only possible because of supporters like you. Donate now and see additional ways to get involved, such as hosting a workshop, volunteering, fundraising, and more!