Provide a pathway to a safe, stable life.
Your support empowers women, men and children on their pathways out of homelessness, domestic violence and sexual assault. Your donation to Doorways is an investment in the long-term safety and stability our community.
Thank you for joining us to create a lasting impact in the lives of women and families at Doorways.
Through Doorways, your support helps our most vulnerable neighbors survive crisis, rebuild their lives and achieve brighter futures. Hear a few of their stories.
Your support helps our clients accomplish the following:
95 of 100 domestic violence survivors exit to safe situations
80% of all our clients exit to safe housing
93% of children with trauma receive counseling
Two-thirds of clients reduce debt while at Doorways and three-fourths build savings
Thank you for providing transformational support to empower women, men and children on their journeys to safe, stable lives!
By donating to Doorways, you're investing in the long-term safety and stability of the women, men and children we serve:
For every $1.00 we receive, $.83 goes directly to support the women, children and families we serve
Doorways received the 2009 Washington Post Award for Excellence in Nonprofit Management for financial health, as well as organizational efficiency and capacity
We were selected four years in a row as one of the Catalogue for Philanthropy's charities
For eight years in a row, we've received high ratings from Charity Navigator
Together, these practices have created a winning formula for innovative client service delivery that leads most families served by Doorways from crisis to stability.
Where does my money go?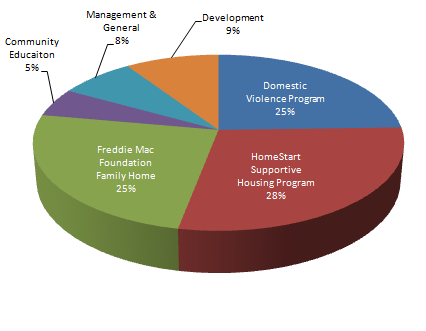 How Can an Individual or Business Help Year-Round?
To make a donation via mail, please make check payable to Doorways for Women and Families and mail to:
PO Box 100185
Arlington, VA 22210
To make a donation online using our safe and secure system, click here.
If you have questions about making a donation, please call Doorways' Development Team at (703) 504-9400.