Corporate Giving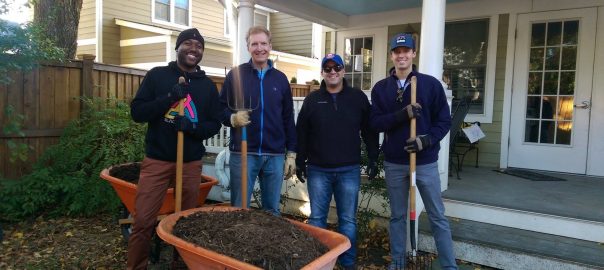 Workplace Giving and Matching Gifts
Many employers sponsor matching gift programs and will match charitable contributions made by their employees. Learn more! Individuals participating in the United Way and Combined Campaigns may designate Doorways:
United Way #8031
Combined Federal Campaign (CFC) #60586

Combined Virginia Campaign (CVC) #200393 (NEW number!)
Corporate Ambassadors
Business Leaders Partnering for Community Change
There are a variety of options for corporations to support Doorways. Whether it is becoming a Corporate Ambassador or contributing by matching an employee's or volunteer's time or monetary gift, corporations can make a huge difference in our community with Doorways.
The Corporate Ambassadors program is a leadership group of corporations that works in partnership with Doorways to end homelessness, domestic violence and sexual assault in our community.
This new partnership will enable your company to make annual contributions in support of Doorways' mission and programs and take advantage of a variety of benefits throughout the year that fit your company's philanthropic goals. Gifts may be made in a variety of forms, including:
Financial contributions
Product donations or drives
Professional services
Employee volunteerism
To learn more about how you can become a Corporate Ambassador, please contact us.
Become a Corporate Ambassador
Corporate Ambassadors are an integral component in both our operations and our clients' everyday needs. Here are a few inventive ways your organization and employees can make a difference:
Financial Donations
Fund the critical services we provide free of charge to community members in desperate need. Doorways relies on the generosity of individuals and companies to raise about 60% of our annual budget.
Collection Drives
Host an in-kind donation drive to benefit Doorways at your business. Doorways is consistently in need of personal care and household items. Groups may organize collection drives for these much-needed items on a one-time, monthly or quarterly basis. Doorways can provide tailored collection fliers and brochures for the drives.
Volunteer
Host a grocery store drive outside of a local grocery store, organize a group of your employees to help out at a Doorways special event, or encourage your employees, friends and family to attend by sponsoring or hosting the event. Participate in other group volunteer activities including creating HomeStart housewarming baskets, maintaining the yard outside Doorways Freddie Mac Foundation Family Home and cleaning and organizing rooms in the Family Home.
Thanks to Doorways Corporate Ambassadors
Adobe
The Allstate Foundation
Amazon
Arrowine
AvalonBay Communities, Inc.
The Boeing Company
CareFirst BlueCross BlueShield
Century21 Redwood Realty
CJM Wealth Advisers Ltd
Clark Construction Group, LLC
Community Solutions International, Inc
Maria Kelly & Madeline Middlebrook – Compass Real Estate
Dominion Energy Charitable Foundation
First Virginia Community Bank
The Grafton Group – Atlantic Coast Mortgage
Intel Corporation Charity Custodial
Keri Shull Team
Kiwanis Club of Arlington
Koons Arlington Toyota
Macy's Pentagon City
Macy's/Bloomingdales
The MakeSense Foundation
Matrix Group International, Inc.
Michelle Sagatov Group, Washington Fine Properties
The Miller & Chevalier Charitable Foundation
Monday Properties
The Morrison and Foerster Foundation
Pershing LLC
Rocklands Barbeque and Grilling Company
Slalom, LLC
Spokesmith
Stanton Blackwell, LLC
Strategic Analysis
The TJX Foundation
Van Metre Companies
Veritas Culture, LLC
Verizon
Washington Football Team Charitable Foundation
Wells Fargo Foundation
Whole Foods Market
Wiley Rein LLP
World Bank Community Connections Fund