Corporate Ambassadors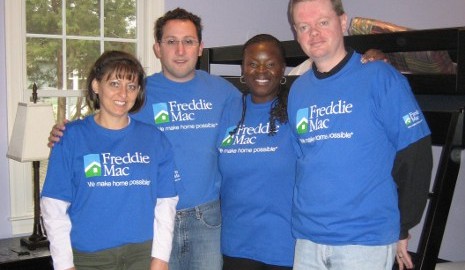 How Your Company Can Be a Good Ambassador
Corporate Ambassadors are an integral component in both our operations and our clients' everyday needs. Here are a few inventive ways your organization and employees can make a difference:
Financial Donations
Fund the critical services we provide free of charge to community members in desperate need. Doorways relies on the generosity of individuals and companies to raise about 60% of our annual budget.
Collection Drives
Host an in-kind donation drive to benefit Doorways at your business. Doorways serves, on average, 85 individuals each week (more than half of whom are children) through our three residential programs, and is consistently in need of personal care and household items. Groups may organize collection drives for these much-needed items on a one-time, monthly or quarterly basis. Doorways provides tailored collection fliers and brochures for the drives.
Volunteer
Host a grocery store drive outside of a local Giant or Safeway, organize a group of your employees to help out at a Doorways special event, or encourage your employees, friends and family to attend by sponsoring or hosting the event. Participate in other group volunteer activities including creating HomeStart housewarming baskets, maintaining the yard outside Doorways Freddie Mac Foundation Family Home and cleaning and organizing rooms in the Family Home.
View more opportunities for Corporate Ambassadors to make a difference!
Get Involved
For more information, or to customize your company's own Corporate Ambassador relationship with Doorways, please contact AnDeneen Baldwin, Ed.S., Leadership Giving Manager, at (703) 504-9403 or ABaldwin@DoorwaysVA.org.