Domestic Violence Awareness Month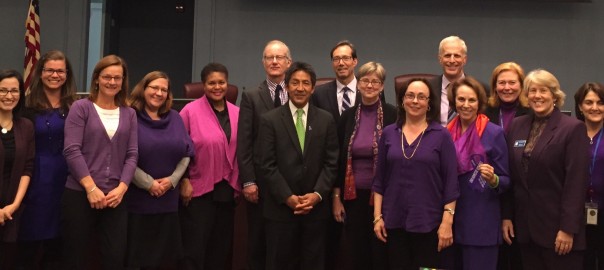 October is Domestic Violence Awareness Month (DVAM)! This month provides an opportunity each year to educate the community on the pattern of abusive behaviors that alter the lives of too many of our neighbors, friends and family. Get involved with us throughout October by participating in our awareness events, sharing news and social media posts and more. Join our cause to stay engaged all year long!
Get Involved During DVAM 2017
In addition to the following public events, Doorways will also be collaborating with the Arlington County Police Department, Arlington County Public Schools, Arlington Young Professionals, Phoenix House and Georgetown SigEp during DVAM this year. If you're interested in having Doorways participate in your event, please contact Linley Beckbridge, Communications and Outreach Manager, at 703-504-9283 or LBeckbridge@DoorwaysVA.org. We look forward to hearing from you!
#Knowthe5
October is Domestic Violence Awareness Month (DVAM)! Learn the 5 key facts about financial abuse and economic empowerment, and take action to support a survivor today.
Financial abuse doesn't discriminate. However, change is in our hands. #Knowthe5 about economic empowerment: https://t.co/0DTWm9kfcb #DVAM pic.twitter.com/RFNXwHPuAY

— Doorways (@DoorwaysVA) October 3, 2017
#31DaysofDVAM
Each day in October, we will share information, resources and ways to take action using #31DaysofDVAM on Twitter. Follow Doorways on Twitter and retweet to your followers to spread the word!
NOVA Pride – October 1st
Stop by our table—shared with Shelter House, a community-based non-profit organization serving homeless families and domestic violence victims in Fairfax County—to learn about Doorways' programs and services. Learn more.
Purple Purse Challenge – October 2nd-31st
Donate to Doorways through the Purple Purse Challenge to help us earn chances to win extra funds to support our financial education. Your gift can help transform the lives of women and families by providing skills and practical tools they can use every day. Empower survivors with the tools they need to achieve safety and stability by donating through our Purple Purse Challenge page on Crowdrise, starting Monday, October 2nd at 12:00 p.m. ET through Tuesday, October 31st at 1:59:59 p.m. ET.:
Arlington's DVAM 2017 Kickoff – October 4th
Join Arlington's Project PEACE and Doorways at the Arlington County Courthouse at 4:00 p.m. in the 10th Floor Jury Assembly Room for a DVAM kickoff! The short program will honor survivors and local accomplishments, and will include special announcements and light refreshments.
Purple Purse: Shop for a Cause – October 7th
Join your local Allstate agent to support our community at their Purple Purse event benefiting Doorways. Shop at Bloomingdales at Tysons Corner Center from 1:00 to 5:00 p.m. on October 7th. At checkout, let your cashier know your purchase is for charity and you need a duplicate receipt. Allstate will collect the duplicate receipts on the 2nd Floor to track purchases benefiting Doorways. Bloomingdales will donate 10% of total tracked purchases! Learn more and RSVP on Facebook.
Campaign for Brighter Futures Breakfast – October 13th
Join us Friday, October 13th for the Campaign for Brighter Futures Breakfast! This hour-long, free fundraising event highlights more than 39 years of building brighter futures through Doorways' progressive programs,  life-changing results, and its unbelievably generous community of supporters.  New this year – the Breakfast takes place at Hyatt Regency Crystal City to accommodate even more guests.  You definitely won't want to miss this!

Purple Thursday – October 19th
Join us to raise awareness, support survivors and take a stand against domestic violence! Wear purple and post your pictures to social media to show your support!
Invite your friends to join you to multiply your impact! Learn more and join NNEDV's Thunderclap to help spread the word.

Spooky Paws Stroll – October 28th
This family- and dog-friendly event benefits Doorways for Women and Families and Homeward Trails Animal Rescue. Dogs and kids walk for free, but you do not have to have a dog to participate. Learn more and register now.
Register now for the #SpookyPawsStroll! https://t.co/yaBUJ9W76z Can't make it? More of a cat person? Enter the online pet costume contest! pic.twitter.com/0O2WfscN2S

— Doorways (@DoorwaysVA) September 22, 2017
Domestic Violence Resources
Doorways' Domestic & Sexual Violence Program, fully accredited by the Virginia Sexual and Domestic Violence Action Alliance, provides more than shelter from violence. We offer a spectrum of life-saving, supportive and educational services to help survivors and families overcome domestic violence, sexual assault and other forms of interpersonal violence.
How to Help a Friend Who's Experiencing Abuse
As a friend, family member or co-worker of someone in an unhealthy or violent relationship, you may be the first person to recognize your loved one is not safe. There are many things you can do to maintain your relationship with them and assist them in building a safety net for them, their children and their pets. Here are a few suggestions.
24-Hour Domestic & Sexual Violence Hotline: 703-237-0881
Trained staff and volunteers provide crisis intervention, safety planning, support, counseling and immediate assistance for abuse survivors. The hotline also serves as a community resource for families, friends and service providers.