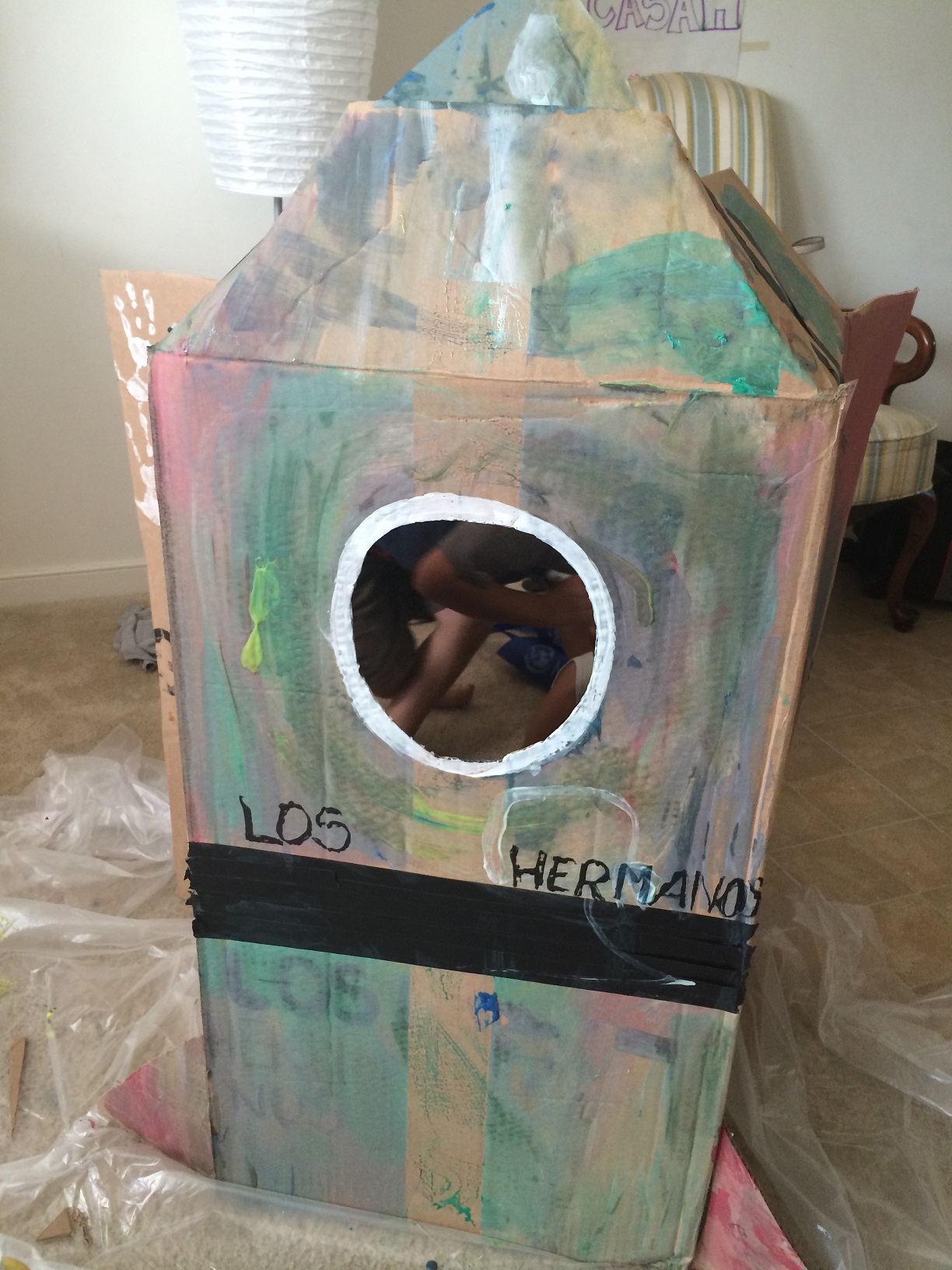 By ages 5 and 6, Antonio and Daniel had witnessed domestic violence at home. For years, their mom, Paula, had been focused on survival. She did all she could to maintain her children's safety by engaging daily in survival skills, but this consuming task left her with very little time to experience play, learning and joy with her children. Daniel, the oldest child, suffered from social anxiety, and transitions were particularly difficult for him. He had also learned aggressive and reactive behavior growing up in a violent home.
Thankfully, Paula and her boys came to Doorways' Domestic Violence Safehouse, where they began to heal together. By working with the Children's Counselor at the Safehouse, Paula learned calm, positive ways to communicate with Daniel and redirect the behaviors he had learned while witnessing violence. When the time came for the family to transition from the Safehouse to the HomeStart Supportive Housing Program, the Children's Counselor worked with Paula, Antonio and Daniel to help with the transition.
As they transitioned to HomeStart, the Children's Counselor met with the family on a weekly basis to work on the challenges of adapting to a different life in their new apartment. Paula was able to focus on her boys in a new way, with the social and developmental support they needed. The Children's Counselor helped Paula feel empowered to be an authority figure in the house and to understand the school system despite language and cultural barriers. Through modeling, the Children's Counselor showed Paula how to engage in positive discipline, talk to Daniel and Antonio about difficult themes and tune into their needs. The counselor provided the children art therapy and play exercises to help develop the self-esteem and self-worth needed to be happy and successful after the trauma they had experienced.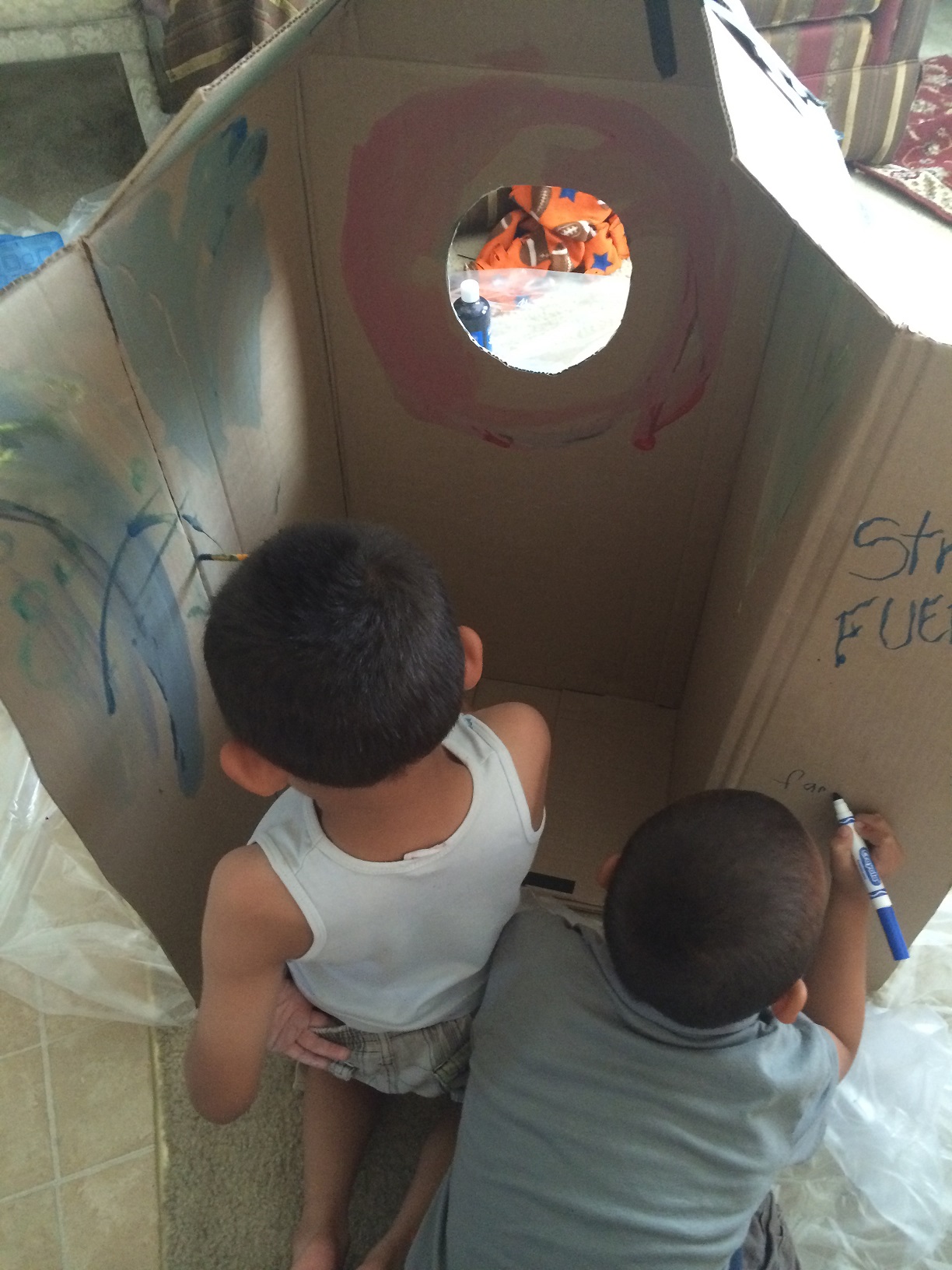 Paula shared with the Children's Counselor that she was particularly concerned about Daniel because of his anxiety and difficulty with transitions. She wanted him to be able to attend and enjoy summer camp, but new places and people made Daniel nervous. To help with his anxiety, during one in-home session, Daniel worked with the counselor to create a book about a rocket ship that would take him around the universe for adventures. Then the whole family worked together to make Daniel's rocket ship a reality by building it with a big cardboard box as a therapeutic activity. The rocket ship had words of encouragement inside that would make Daniel and Antonio feel safe during their journey toward new places. Using play therapy and metaphors, the boys got in the rocket ship together, and their mother and the Children's Counselor guided them as they explored unknown planets and experiences.
When they got to an unknown place for the first time, Daniel got so scared about interacting with these pretend new places that he ran, wide-eyed, to his room and didn't want to come out. The Children's Counselor spoke with Paula about the importance of addressing the challenges that are faced outside of their home by talking and practicing appropriate ways to deal with difficult emotions. Soon after, with their support, Daniel came out from his room and said, "I'm ready to try again!" and so they did. This time, Paula gave Daniel his teddy bear, and his brother hugged him during the whole ride to the planet where he would interact with new people and things. Together, they arrived safely.
Daniel knew he would have to interact with new people and things at camp and when school started again. In partnership with the Children's Program, Paula developed self-sufficiency skills as a parent and was empowered to remain in touch with her children's needs when they graduated from Doorways. Thanks to all of the practicing they did at home, Paula reported that even though Daniel became a little emotional, she was able to help him through the anxiety that he was feeling by engaging in the same exercises they had done with the Children's Counselor. With this support from his mom, Daniel was able to begin a grand new adventure at school this year.