Doorways Earns New State Accreditation for Domestic and Sexual Violence Programs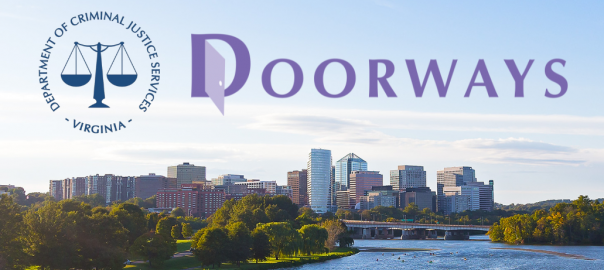 Doorways announced that the agency earned full dual accreditation from the Virginia Department of Criminal Justice Services, Division of Programs and Services, Victims Services, becoming one of only 12 dually accredited domestic and sexual violence agencies in Virginia. Doorways is Arlington's only provider of safehousing (emergency shelter), services, and supportive housing for survivors and earned full accreditation for having met 100 percent of the voluntary Virginia Sexual and Domestic Violence Program Professional Standards. 
Doorways' programs have become especially critical in recent years as the number of survivors needing shelter and support increased dramatically. Over the last six years, Doorways experienced more than a 120% increase in the number of survivors and their families sheltered in their safehousing to escape imminent danger.   
"We are honored to receive this acknowledgement of the quality and consistency of our work, particularly as we are working to expand our programs," said Diana Ortiz, M.Ed., LPC, President and CEO. In response to increasing need, Doorways is expanding their safehousing and supportive housing programs. Doorways is also expanding their prevention and outreach efforts, which help reduce domestic and sexual violence by engaging youth around topics like safe and respectful relationships and consent. "I am immensely proud of our team for all their hard work and dedication to our clients, especially as the number of people we are serving continues to grow," Ortiz said.  
Doorways' fully accredited programs further include a 24-hour hotline (703-237-0881) for support, information, and access to Doorways' safehousing and services. Among those services are hospital accompaniment for survivors seeking forensic exams following sexual assault and/or domestic violence; mobile advocacy, which connects specially trained advocates to survivors needing support out in the community; court advocacy to aid survivors in navigating legal protections such as protective orders; and counseling for individuals of all ages who have been impacted by domestic and sexual violence, as well as support groups. Anyone in need of information or support related to domestic and sexual violence is encouraged to call Doorways' hotline at 703-237-0881. 
As a private nonprofit, Doorways relies on community support from individuals, businesses, and foundations for about half of its funding every year. In order to meet the growing need for survivor safehousing and services, Doorways needs the support of this community to provide safe harbor, healing, and hope to those impacted by domestic and sexual violence in Arlington. Learn more and donate now at www.doorwaysva.org.