Be an Askable Adult, with Ashley Blowe, Siobhan Grayson & Scotney Young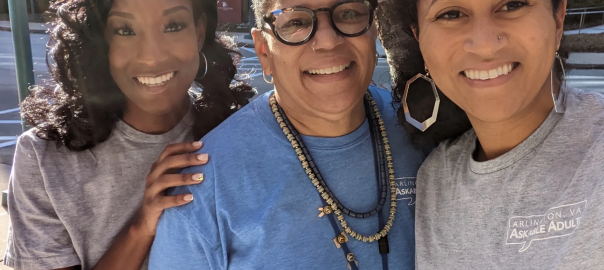 "There's this fear — this misunderstanding — that youth should be seen and not heard, and that's just not a thing anymore." –Siobhan Grayson
What makes someone "askable"?
Arlington, Virginia has launched an "Askable Adult" program to build adults' capacity to be nonjudgmental and approachable resources and supports for youth in the county. Program proponents believe that everyone has a role to play in supporting the health and well-being of children and youth in the community.
And on their short list of key skills that make adults more askable? Be a curious co-pilot.
To help us learn what it means to be an Askable Adult, the Choose to Be Curious podcast welcomed three dynamic and devoted Arlington community builders: Ashley Blowe, Training and Prevention Specialist, Department of Human Services; Siobhan Grayson, Youth Outreach Coordinator for the Prevention Unit under the Department of Human Services; and Scotney Young, Prevention and Outreach Manager at Doorways, a domestic and sexual violence response organization.