Doorways President and CEO Caroline Jones Wins 2015 Brava Award
Doorways for Women and Families, an Arlington nonprofit creating pathways out of homelessness, domestic violence and sexual assault, proudly announced today that its President and CEO, Caroline Jones, has won the 2015 Brava Award. Jones will be recognized at an awards reception on July 30.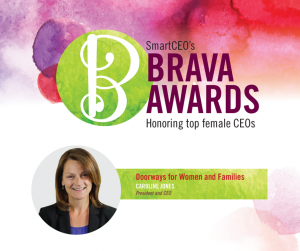 Jones, who holds a Master's in Social Work with emphasis on child welfare and clinical intervention, has dedicated more than 18 years of service to at-risk children and families. Jones joined Doorways as director of Doorways' HomeStart Supportive Housing Program (formerly the Transitional Housing Program), in 2003. In 2005, Jones was promoted to client service director. Under her leadership, Doorways transformed client service delivery to provide comprehensive, family-centered and strength-based support for women and families.
When Jones was named Doorways' executive director in 2011, she further strengthened the organization by empowering staff, forming strategic partnerships and improving organizational structure and efficiency. Her extensive experience in leadership, direct client services, program development and evaluation, mutual competency models of supervision, community partnerships and advocacy has led to Doorways' growth and continued success.
"Caroline is an exceptional leader of an amazing team of dedicated staff," said Doorways Board President Christy Cole. "She manages the intense operational demands of her role while adeptly cultivating relationships with key external stakeholders including government agencies, corporate partners and individual donors. Caroline brings a wealth of skills, experience, passion and dedication to her work. Please join us in congratulating Caroline for this well-deserved recognition of her outstanding leadership and her ongoing role in Doorways' success."
"I'm honored to receive the 2015 Brava Award along with many impactful leaders," Jones said. "I am so grateful for Doorways' dedicated community of supporters and our staff and volunteers for making our work possible, and I thank our survivors for teaching us how to have the greatest impact in their lives and our community."