Doorways' Open Hearts, Open Doors Event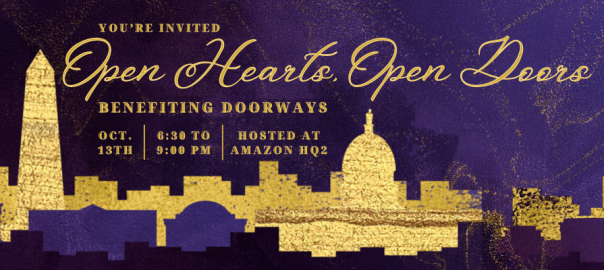 Thursday, October 13, 2022
6:30 p.m. to 9:00 p.m. Main Event, Auction, and Fund-the-Need
Hosted at HQ2 by Sponsor and Community Partner, Amazon
Everyone deserves healthy love, a place to heal, and a home in which to thrive. Your financial support of Doorways' Open Hearts, Open Doors helps us provide these things. From shelter to counseling services, legal aid to safety planning, a hand to hold at the hospital, or a lift out of the darkest of days – Doorways is here and able to serve our community, because of you. Purchase event tickets and sponsorships today!
Sponsor the Event
Sponsor the event to earn benefits including tickets to the Sunset Social Reception (for sponsors giving $1,000+), a pre-event sponsored by Amazon! Download the sponsorship packet to learn more.
Thursday, October 13, 2022
5:30 p.m. to 6:30 p.m. Sunset Social Reception
Hosted at HQ2 by Sponsor and Community Partner, Amazon
To learn more and become an event sponsor today, contact Joy Myers, Doorways' Chief Development Officer, at 703-504-9290 or jmyers@doorwaysva.org.
Special Thanks to Our Sponsors
$25,000 Sunset Social Sponsor

$20,000 Fund-the-Need Sponsor