Volunteer News
Volunteer Groups Make a Difference at Doorways
When large groups of volunteers come to help out at Doorways for Women and Families, their impact is immediately visible and deeply appreciated. Volunteers' impact on staff and clients is profound. To all of our Doorways volunteers, thank you!
Volunteers of the Month
Alex and Valentyna Ryan, Children's Program Volunteers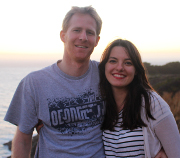 Alex and Valentyna have made a remarkable impact on our littlest clients since joining our Doorways Team last November. Alex and Valentyna always bring abundant amounts of joy and kindness to each session with the kids in both our Family Home and Safe House. They are quick to adapt to the different needs and personalities of each child and tailor the evening to make sure everyone plays well together. The staff at both shelters have commented about their ability to engage children of all ages and the patience they have. In addition to their stellar work with the kids, Valentyna also used her photography skills to capture pictures of our families with Santa at our holiday party this past December. She even spent extra time editing the pictures so that each family would have a high quality photo to cherish. Thank you, Valentyna and Alex, for your commitment to our Children's Program!
Reda Mulatu, Interpreter
Reda's commitment to helping families is inspiring! While maintaining her busy work-life schedule, she also consistently provided translation services to our Amharic-speaking family. She attended meetings in person and was also available by phone to ensure that communication flow was always open. Additionally, any time she saw an opportunity to support the family's goals, she went above and beyond! Reda doesn't shy away from a challenge and was eager to identify new resources and help the family move forward. She spent time assisting them around immigration issues, as well as discussing Ethiopian and U.S. cultures. We are truly appreciative of all that Reda has contributed to Doorways and our families in need.
Find out more about individual volunteer opportunities at Doorways!
Volunteer Training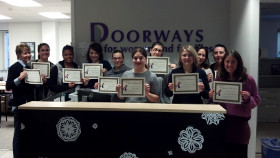 Thank you and congratulations to the graduates of Doorways' volunteer training program! These volunteers have dedicated 40 hours of their time to training so that they can provide services to families living at the Family Home and Safehouse.