Volunteer Voices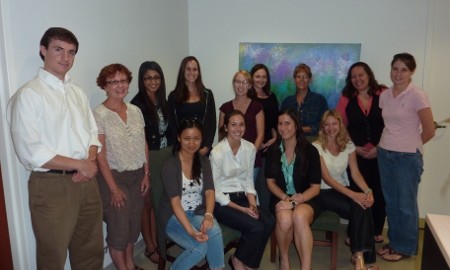 Volunteers are an important and valued part of the Doorways team. Their volunteer service inspires not only themselves, but the staff and clients they serve. Learn how volunteering has impacted the lives of our volunteers by reading their stories below. Interested in becoming a volunteer? Learn more about the opportunities available and get started today.
Stepping Stones
Small stepping stones leading up to a welcoming front door. That's what I think of when I explain how Doorways became a part of my life… Read more.
A Special Place
I began my Doorways training six months ago, signing up after a night on patrol with the Arlington Police Department woke me up to a variety of issues in our community. I was appalled at many of the things I saw, and Doorways gave me an outlet for the emotions running through me… Read more.
No Family Should Ever Feel Alone
Doorways is a lifeline and anything I can do to keep that lifeline strong, I want to! That's what after I became a massage therapist, I could think of no other group of strong, fighting the good fight, advocates that deserves to be thanked for their work through the HEALING power of touch… Read more.
The Least I Can Do
As I began to interact with the clients more and after my first couple of intakes, I felt so at home sitting behind the desk at the Safehouse, confident I can handle anything that comes my way — knowing the great staff is only a phone call away… Read more.
Career Change
Volunteering for Doorways for the past three years has been an enlightening experience because it made me realize what my biggest strength is: compassion. That awareness has now led me toward a completely different career path… Read more.
Silly, Playful, Resilient Kids
I started volunteering with the Children's Program because I think that kids ought to be kids. By the time the children are a part of Doorways, they may have experienced and lived through things that I wouldn't wish on anyone. So I want these children to understand that it's okay to just be a kid—to giggle, to play, to run around, make up games, and to just be silly… Read more.
A Win-Win Situation
What really spurred my move to Doorways was asking myself how I could do the most good with my time – to maximize the winning if you will… Read more.
Journey to Confidence
At first I thought I would be a storage volunteer, working in the Family Home's basement storage room, sorting goods and supplies and minding my own business. But I felt it would be a better idea to be a Family Home coverage volunteer. It was a chance for me to stop hiding and to put myself in the forefront… Read more.
Shopping Buddies
I'm not going to lie—my decision to volunteer at Doorways wasn't completely selfless… Read more.
Helping People
I went to school for seven years to become a physical therapist. I had always wanted to build a career that allowed me to spend my days "helping people"… Read more.
A Few Words
Sometimes it only takes a few words to transform an experience… Read more.