This SAAPM, send the gift of self-care to a survivor at Doorways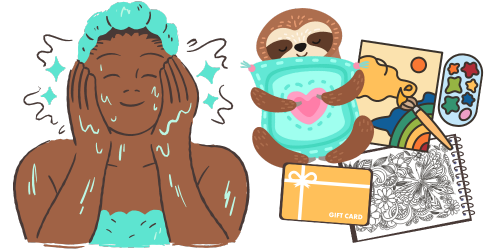 Want to help empower a survivor this Sexual Assault Awareness and Prevention Month (SAAPM)? This year, we are hosting a fundraiser designed to do just that! We're asking donors to select from 3 different empowerment gift bundles designed to aid our clients in healing, self-care, and self-love.
In addition to the specially tailored items, we're asking donors to provide a gift card, at whichever level works best, to complete their gift bundle. We ask for gift cards as they empower our clients with the opportunity and freedom to show themselves some love!
Below you can find a description of each available bundle along with their estimated value:
Skincare Empowerment Bundle ($16 value): Who doesn't love an at home Spa Day! Included in this kit is a wonderful assortment for a relaxing self-love skincare routine!
Crafting Empowerment Bundle ($25 value): With a combination of relaxing coloring books, and paint by number kits, this bundle opens the door to artistic expression!
Ultimate Self-Care Empowerment Bundle ($46 value): Skincare, crafts, sensory toys, and comforting weighted plushies combine to create our ultimate self-care empowerment bundle!
For more ways to take action during SAAPM, check out:
Sexual Assault Awareness and Prevention Month (SAAPM): 5 Ways to Take Action