Local Bars Partner with Doorways for Women and Families in Support of Sexual Assault Awareness Month
Community Comes Together to Prevent Assault and Support Survivors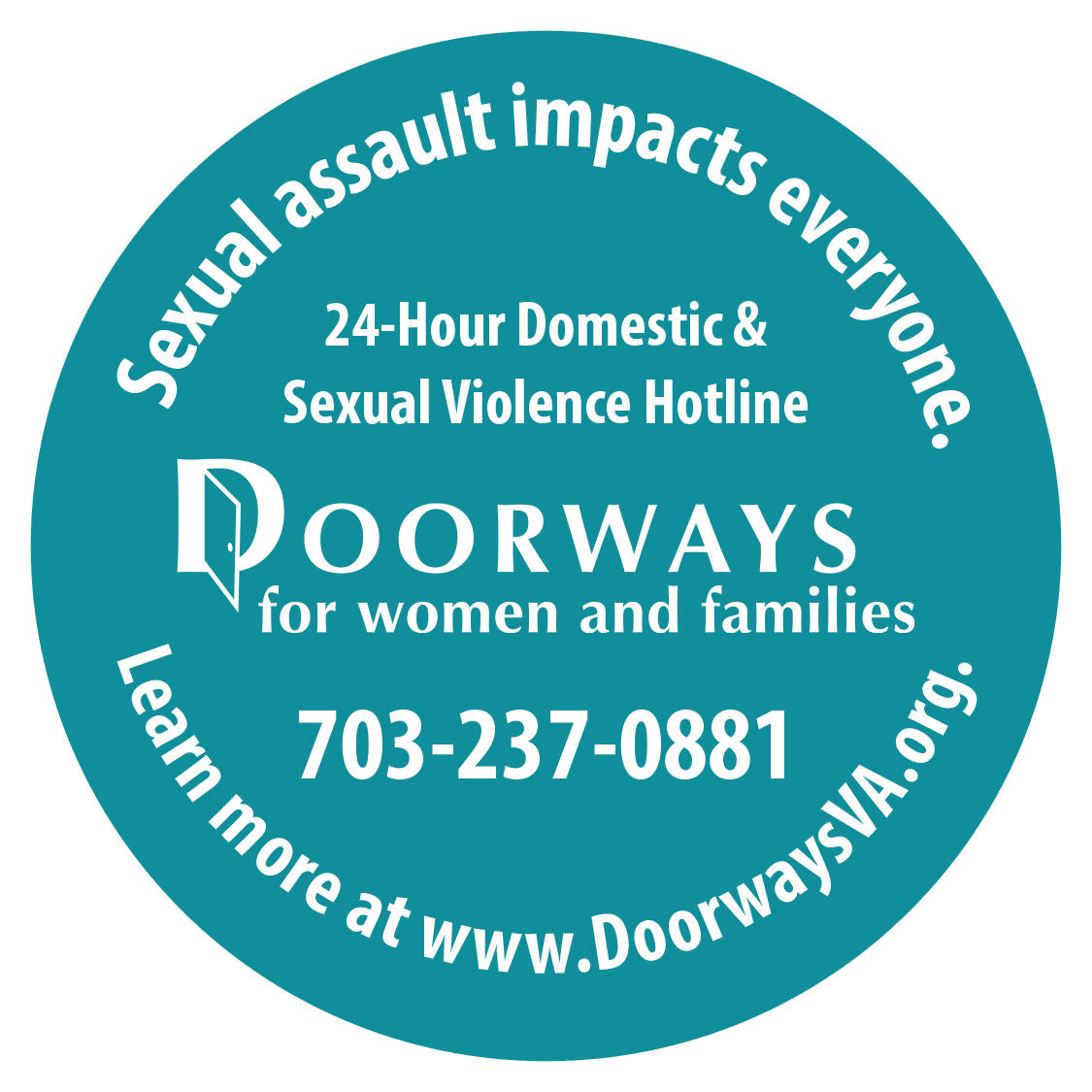 Local nonprofit Doorways for Women and Families is partnering with bars throughout Arlington this weekend to raise awareness of sexual assault and the resources available to survivors in our community. Starting Friday, April 28, five bars will provide customers with coasters that feature Doorways' 24-Hour Domestic & Sexual Violence Hotline (703-237-0881) and the message, "Sexual assault impacts everyone." Participating bars and restaurants include The Liberty Tavern, Lyon Hall, Northside Social, Crystal City Sports Pub and O'Sullivan's Irish Pub.
Through these coasters, Doorways aims to reach survivors and call on the community to help support them. According to RAINN, the nation's largest anti-sexual violence organization, an American is sexually assaulted every 98 seconds, and 54 percent of sexual assault victims are between the ages of 18 and 34. Last year alone, 187 adults and 40 children were served by Doorways' hotline response as a direct result of sexual assault, and many more of Doorways' clients have experienced sexual violence within their intimate relationships or in the past.
"Our goal with this outreach is twofold," said Doorways President and CEO Caroline Jones. "First and foremost, we want to show survivors that they're not alone. Secondly, we want to ensure that everyone is aware of the resources here in Arlington, namely our 24-Hour Domestic & Sexual Violence Hotline—help is available in our community."
"We want to show survivors that they're not alone."
Additional resources available through Doorways include hospital accompaniment provided by a highly trained advocate for survivors who choose to seek medical attention; Doorways' Revive Domestic & Sexual Violence Counseling Program, which offers trauma-informed short-term counseling tailored to your needs to support for survivors seeking services due to domestic violence, sexual assault, dating violence and/or stalking, including adults, youth and children; and Doorways' bilingual (Spanish and English) Court Advocacy Program, which provides education about the legal system, companionship during the petition and court hearing processes and extensive safety planning for anyone impacted by family violence.
Doorways also stresses the importance of not blaming victims of sexual violence. The connection between sexual assault and alcohol is still widely misunderstood. "Sexual assault is never the victim's fault," said Christa Carlton, director of Doorways' Domestic & Sexual Violence Program. "While perpetrators may use alcohol as a tool to incapacitate their victims, the only person to blame for assault is the one committing the violence."
"Sexual assault is never the victim's fault."
As Sexual Assault Awareness Month comes to a close, Doorways remains available to survivors, their friends and family and our community year round. Free and confidential crisis support, information and referrals are available 24 hours a day, seven days a week through Doorways' hotline at 703-237-0881. Whether you need emergency shelter, hospital accompaniment, counseling, court advocacy or simply a listening ear, anyone needing support is encouraged to call Doorways to talk about their situation or that of a loved one.
Doorways Partners With Local Restaurants For Sexual Assault Awareness
From ARLnow.com
Five Arlington restaurants are partnering with local nonprofit Doorways for Women and Families to raise awareness of sexual assault and help available for victims.