Why Ending Homelessness Isn't That Easy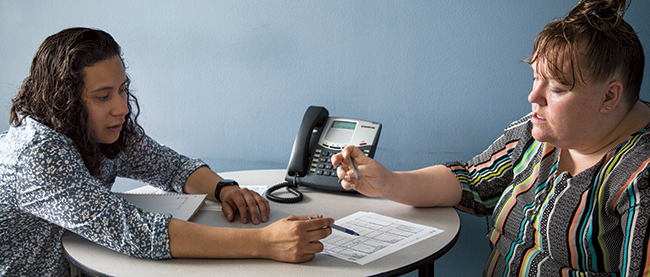 Christina (right) meets with financial counselor Luis Callejas at Doorways. Photo by Benjamin C. Tankersley.
One key riddle is figuring out how to move families not just out of homelessness, but up a rung of the economic ladder so their lives are not so precarious.
Christina hasn't made that climb, but she's found stability. She, her fiancé and their first son bounced between relatives before they ended up sleeping in their car on the Alexandria waterfront. "Seeing your child sleeping in the back seat of a car, knowing you had nowhere to go, it's hard," says Christina, 33, who has learning disabilities.
They later moved to a Rosslyn apartment where mice were rampant. She remembers shoving her fiancé's Rocky movies under the door to try to blockade the rodents from getting in.
By the time she became pregnant with her second son, Christina and her family turned to Doorways for help. In August, after working in various food-service jobs, she was preparing to start a full-time position with a nursing home that pays $10 per hour, plus benefits. They now live in an affordable housing unit in Ballston, where she pays just $349 of the $1,100-per-month rent (which includes parking and water).
With her fiancé unemployed and helping with the kids, living on her wages alone would be impossible without the safety net, she says. Continue reading at Arlington Magazine.