In the Community
Community Advocacy Collaborations
Doorways is a strong advocate for the rights and needs of survivors of violence and homelessness, and we are proud to be part of a larger community that is working together to address these traumas and their root causes. We partner with local and regional nonprofits, advocacy agencies, faith-based organizations, civic groups and county and state government agencies to help our clients achieve the best outcomes.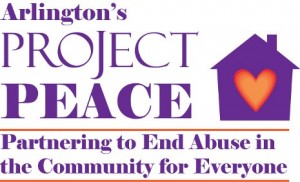 Doorways serves as a key leader and catalyst in Arlington's coordinated community response to violence, Project PEACE. This "best practice" approach unites more than 25 public and private entities under a comprehensive vision and strategic course for how Arlington will prevent domestic violence and protect and provide services for those affected by it. Project PEACE facilitates coordination among agencies to strengthen services and address gaps in family violence and intimate partner violence prevention and interventions.
Doorways is most active in Project PEACE in the following ways:
Educating young people and the community about domestic and dating violence, anti-bullying techniques, harassment and conflict mediation
Strengthening response from law enforcement officials
Expanding affordable housing options for survivors so they do not have to return to abusive partners
Reducing the cycle of violence and victimization by providing specialized treatment for children, teens and adults who have witnessed acts of domestic violence
Learn more about Project PEACE.
 
Arlington's Action Plan to End Homelessness (formerly the 10 Year Plan to End Homelessness) was launched in 2008 with a consortium of more than 100 stakeholders from public, private and faith-based community organizations. The plan's primary goal is that no individual or family shall lack access to decent, affordable housing.
Housing First is not just a fancy slogan; it's a legitimate and innovative new direction being forged in the homeless-serving sector. It represents a paradigm shift from traditional methods of service delivery where "serving the homeless with shelter, food, basic necessities, and supportive services" was the emphasis, not permanent housing. To truly "end homelessness" – the primary goal of Arlington County's 10-year plan – a philosophical and programmatic shift, emphasizing more than one approach, is required by many service sectors.
Beginning in 2004, with the goal that our services are transitional (not the family's housing), Doorways began to shift its program design so that families leaving shelter had more permanent housing options with longer-term housing subsidies. We successfully advocated with the County to create a Transitional Housing Grant program that created the necessary bridge homeless families need to meet the high cost of permanent housing. Since that time, we have worked to develop partnerships with landlords in our community willing to offer families a new beginning.
Today, through Doorways' HomeStart Supportive Housing Program, families leave shelters and move into housing that either is or will become their own as they progress through the program. With future housing no longer a worry, the program provides comprehensive, supportive services that help families address the root causes of homelessness and domestic violence, while gaining positive life skills and fostering positive landlord-tenant relations that anchor permanent housing.
Learn more about the Ten Year Plan to End Homelessness.
Arlington Landlord Partnership
The Arlington Landlord Partnership (ALP) is an innovative effort that aims to provide affordable housing access for everyone who needs it in Arlington. The goal of the ALP is to increase the availability of rental housing for homeless individuals and families with high leasing barriers. Doorways was instrumental in the creation of the Arlington Landlord Partnership, and continues to help lead this important effort to help ensure that everyone in our community has a safe and stable place to call home.
In partnership with local landlords, property managers and service providers, the ALP serves individuals and families with high housing barriers who are experiencing homelessness and who are part of Arlington County Rapid Rehousing and Permanent Supportive Housing Programs, including Doorways' HomeStart Supportive Housing Program.
As part of the ALP, the Housing Assistance Bureau and Arlington nonprofit homeless service providers including Doorways provide case management, facilitated communication, eviction prevention assistance for eligible clients, and access to a Risk Reduction Fund for either damages or lost rent. Participating landlords earn access to the Risk Reduction Fund by lowering their screening criteria, which has typically screened out many individuals and families experiencing homelessness.