COVID-19 Resources for Concerned Community Members
Here you will find a collection of resources for concerned community members seeking to help youth and families experiencing homelessness during the COVID-19 crisis, as well as survivors of domestic and sexual violence escaping or healing from abuse. We are so grateful for your support!
How to Access Doorways Shelters and Services
Doorways provides shelter and services to individuals and families in Arlington, Virginia, including women, men, youth, and LGBTQIA+ people.
Donate Now
"What's most important for us right now is, honestly, flexible funding, because we don't know what some of these demands are going to be so having those flexible funds to respond to our clients' needs is really important for us."
Donate Items at Drive-Thru Deeds
Fridays 11:00 a.m. – 1:00 p.m.
Check our event calendar on our website and on Facebook for the latest updates.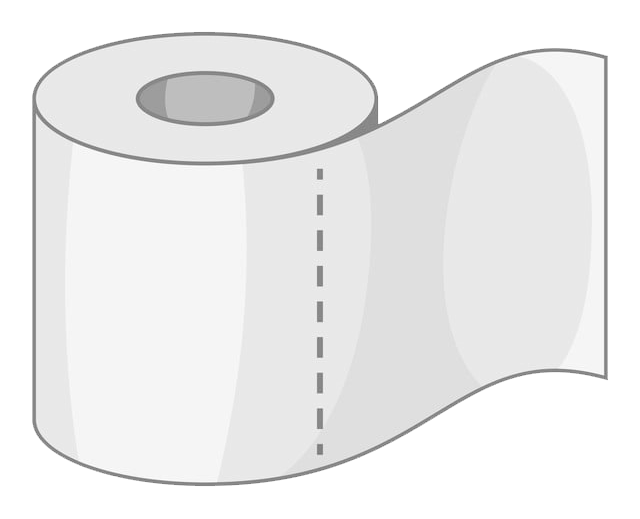 Have more at home than you need? Swing by our office's Drive-Thru Deeds on Fridays from 11:00 a.m. to 1:00 p.m. to drop off items you may have "extra" of at home.
We will regularly release an updated list of the most urgently needed items. RSVP on Facebook or subscribe to our email list to get updates.
Please contact Joy Myers at JMyers@DoorwaysVA.org or (703) 504-9290 for donation drop-off instructions. When you arrive, a staff person will come out to meet you at your car and accept your donations.
Unable to drop off in person? Please shop our Amazon wish list instead and ship your donations directly to Doorways.
Domestic and Sexual Violence Resources
Doorways' 24-Hour Hotline: 703-237-0881

Printable Hotline Poster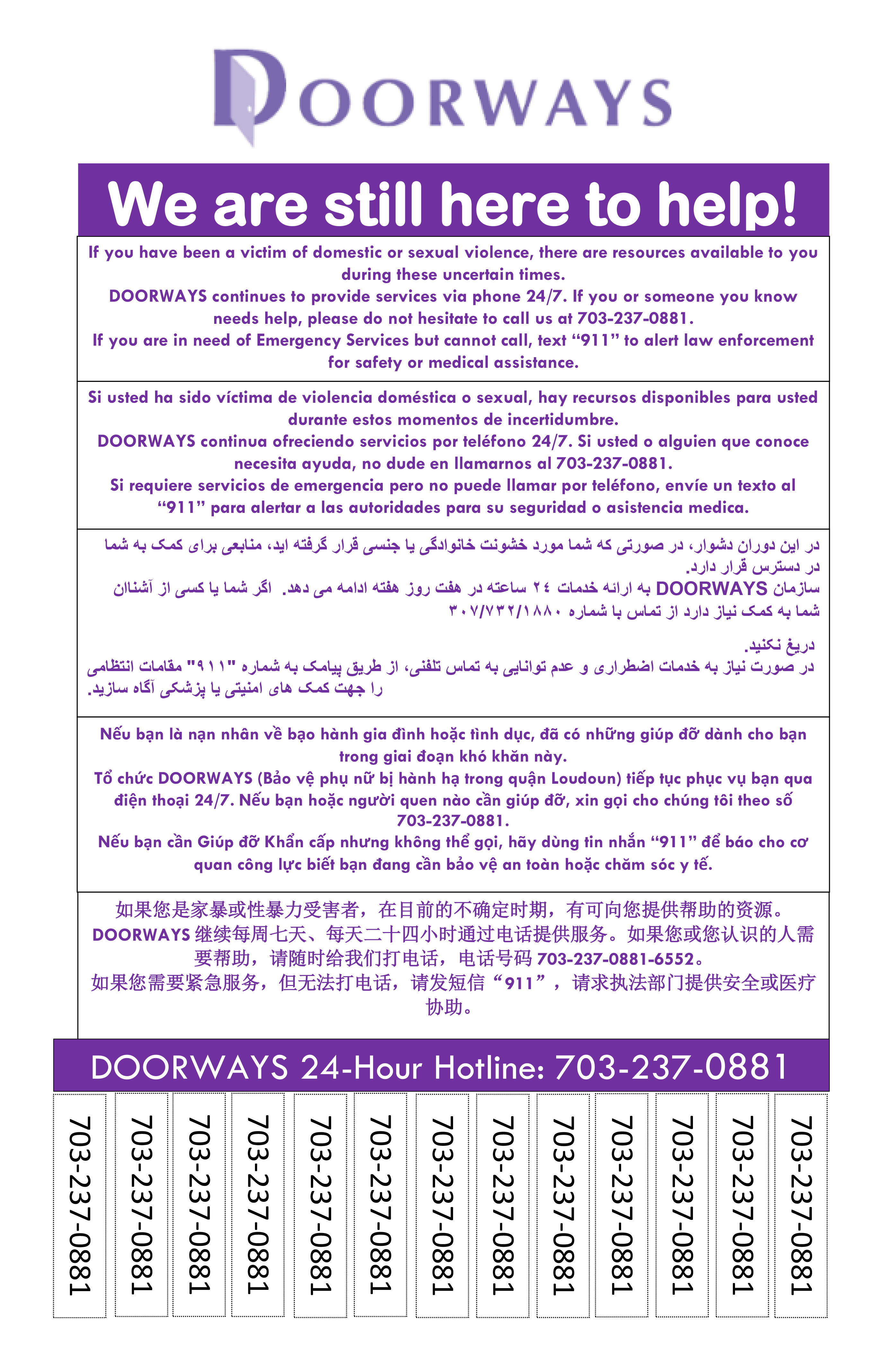 Download it now.
Staying Safe at Home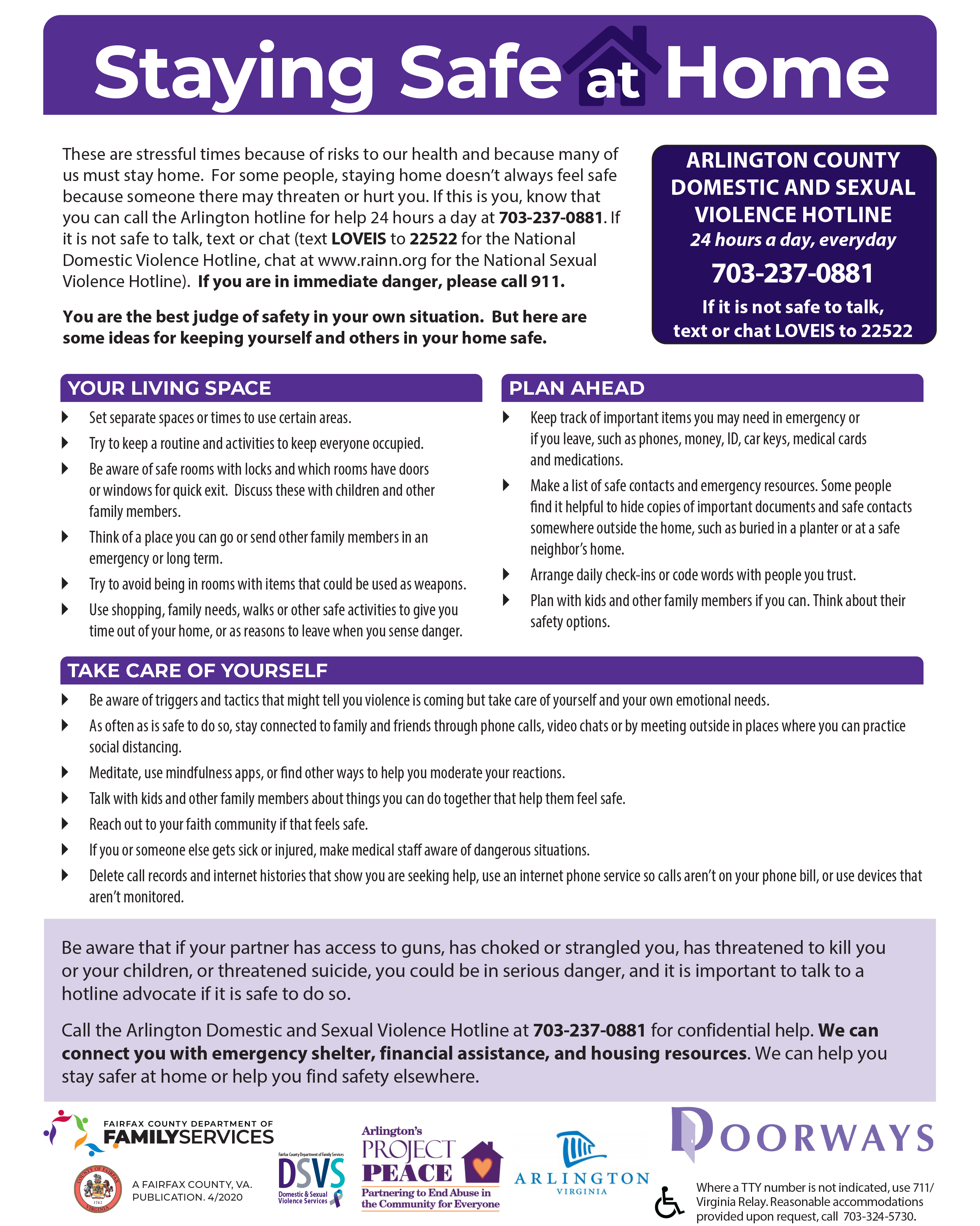 These are stressful times because of risks to our health and because many of us must stay home. For some people, staying home doesn't always feel safe because someone there may threaten or hurt you. If this is you, know that you can call the Arlington hotline for help 24 hours a day at 703-237-0881. If it is not safe to talk, text or chat (text LOVEIS to 22522 for the National Domestic Violence Hotline, chat at www.rainn.org for the National Sexual Violence Hotline). If you are in immediate danger, please call 911.
You are the best judge of safety in your own situation. But this flyer has some ideas for keeping yourself and others in your home safe. Download it now.
National Resources
The National Domestic Violence Hotline: 800-799-7233 / 800-787-3224 (TTY) /  Online chat
National Sexual Assault Hotline (RAINN): 800-656-HOPE (4673) / Online chat
loveisrespect: 866-331-9474 / TTY: 866-331-8453 / Text: loveis to 22522 / Online chat

Regional Resources
Virginia Domestic Violence/Sexual Assault Hotline: 800-838-4753
LGBTQ Partner Abuse and Sexual Assault Helpline: 866-356-6998  / Text: 804-793-9999  / Chat (confidential instant messaging)
DC Victim Services 24-Hour Hotline: 844-443-5732
DC Citywide Sexual Assault Hotline: 202-333-RAPE
Maryland Domestic Violence Hotline/Resources: 800-MD-HELPS
Local Resources
Fairfax County Domestic & Sexual Violence Hotline: 703-360-7273; TTY 711
Alexandria Sexual Assault Hotline: 703-683-7273
Alexandria Domestic Violence Hotline: 703-746-4911
Project PEACE
Arlington County's Project PEACE (Partnering to End Abuse in the Community for Everyone), is a coordinated community response dedicated to advancing the most effective and efficient array of education, prevention, protection, and support services to end domestic and sexual violence in the community. (Facebook / Twitter / Instagram)
Domestic and Sexual Violence Programs Posters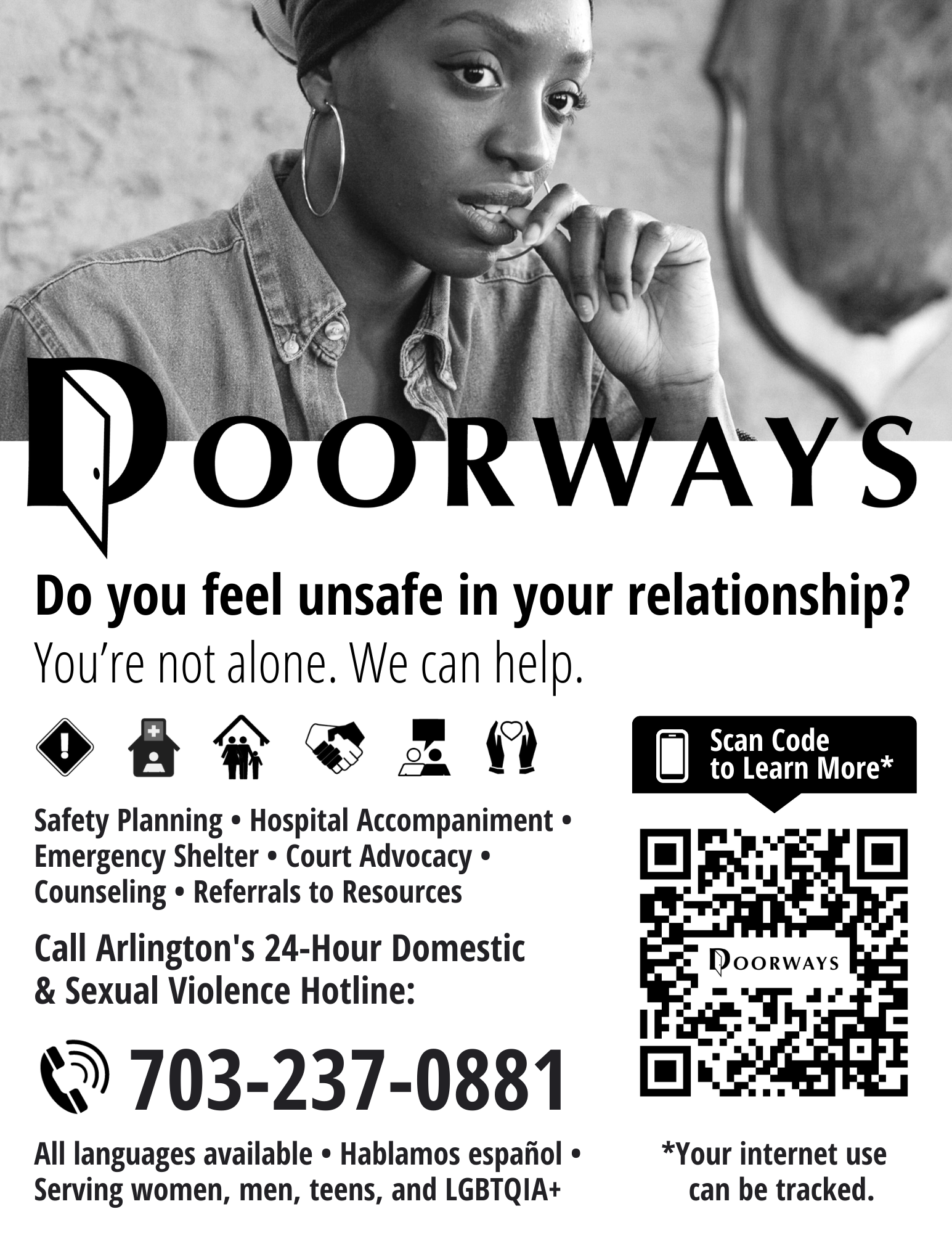 During this period of isolation, it's especially important that resources are available in places where survivors already are, or are permitted to go. We have created a collection of posters that you can easily print on your home printer, on standard-size office paper. Hang them where they can be seen, such as in your apartment building's elevator. If you do leave home to go grocery shopping, pick up a prescription, or access other essential services, consider taking a poster with you and asking the business to display this resource for their customers. Download now.
Resources for Renters in Arlington
COVID-19 Coronavirus FAQs for Renters and Landlords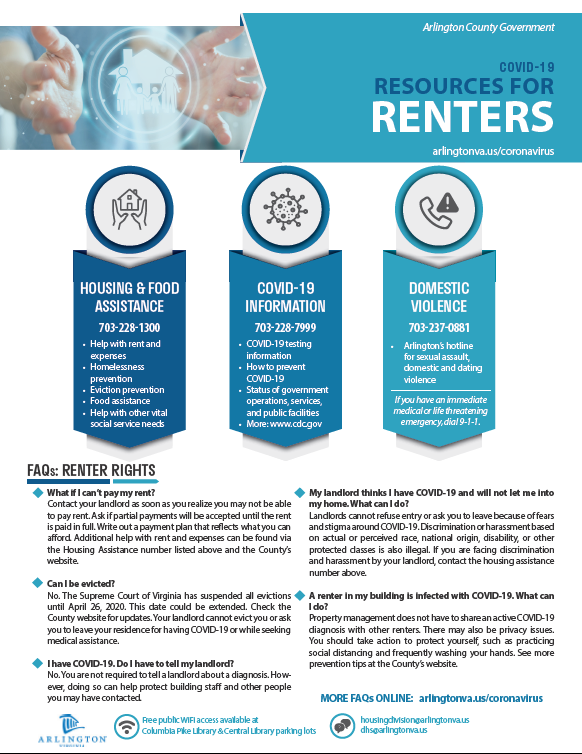 Stay Connected with Doorways