Freddie Mac Foundation Family Home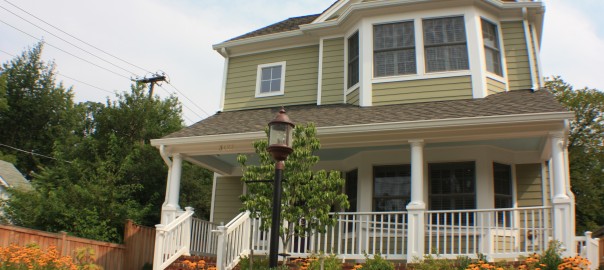 Are you in need of our services?
Access to Doorways' Freddie Mac Foundation Family Home and other Arlington homeless shelters is provided through Arlington County's Centralized Access System (CAS). Please note that shelter beds are reserved for Arlington, Virginia residents.
If you or someone you know is homeless or at risk of becoming homeless in our community:
Contact the Department of Human Services Community Assistance Bureau at 703-228-1300 for help if you or someone you know is homeless or at risk of becoming homeless.
In case of shelter need during non-business hours, households should call 703-228-1010 for assistance.
If you or someone you know is experiencing abuse:
If you are experiencing a life-threatening situation, please call 911. Free and confidential crisis support, information and referrals are available 24 hours a day, seven days a week through our 24-hour Domestic & Sexual Violence Hotline at 703-237-0881.
About the Family Home
I laugh about it now, but when I was coming to the Home for the first time, I drove by it 3 times. I couldn't believe that I had the right address and that such a beautiful place could be a shelter.

—Former Family Home Resident
When a new family arrives at Doorways' Freddie Mac Foundation Family Home, it is an important day: they are no longer hidden. Upon entering, families are shown to their bedroom, given a tour of their new home, and made to feel comfortable. After a family is settled, staff will start the intake process, allowing the staff to learn more about the family and their specific situation.
Similar to our Safehouse, the Family Home is not "just a place to stay," but rather a doorway to a better life. Throughout a family's stay we offer counseling, financial education, support groups, services for children, job advocacy and help finding permanent housing. Our homes seek to improve a family's life for the long-term, not just provide temporary shelter.
The Staff Offices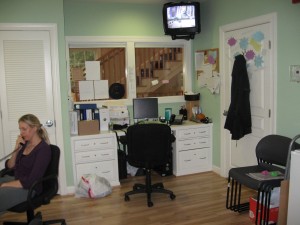 In this office, Home Coordinators are available to assist families in receiving any items they need immediately (soap, diapers, medicine, etc.) and to help them adjust to the home by showing them where everything is kept and an overview of the Doorways community living guidelines. A second office downstairs houses the lead client service staff, the Client Services Counselor, Children's Services Counselor and the Financial Education Counselor. These staff assist each family in identifying their next steps, goals, resources and housing plan.
The Living Room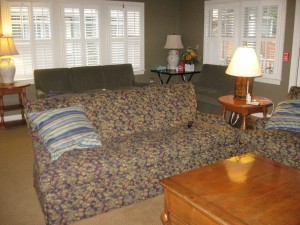 The Family Room is shared by all families for rest and relaxation after work and on the weekends. During the Home's 2008 re-build, the colors and furniture were selected by highly acclaimed, Arlington-based interior designer Michael Roberson. Her services were donated, and she obtained generous gifts from design vendors. We receive many compliments from our residents about how authentic and comfortable our home feels. The high-quality and durable furniture and carpets that Michael Robertson helped us acquire go a long way to explaining why.
The Bedrooms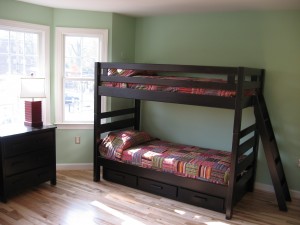 For our residents, having a room of their own is a source of pride.  This is a typical bedroom for families while they stay at the Family Home. Many of the rooms connect to meet the needs of large families. Families are responsible for keeping their room clean and tidy, including washing their linens and towels. Each bedroom door is locked for privacy, but Doorways staff maintains access to enter rooms for safety purposes.
The Children's Playroom
The playroom is a place for children to play safely while their parent is supervising from an adjacent area. There are toys available for all ages. For safety reasons, toys with small pieces are kept in locked cabinets and brought down when infants and toddlers are not using the space. All of the toys in the playroom have been donated to Doorways through holiday drives to ensure that broken toys are replaced and that we have a variety of current, age-appropriate and family-friendly toys.
The Kitchen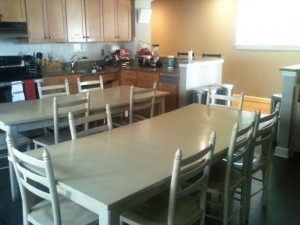 This is where all of the families prepare and eat their meals. Doorways provides all of the perishable and non- perishable food necessary to feed this family of 21. Each family is responsible for the preparation and clean-up of their meals. This is also where families will find their assigned, evening chore. All children are encouraged to assist parents in completing their chores as is appropriate for their age. Donations from the community keep Doorways food costs as low as possible, but don't always cover the need for fresh fruits and vegetables, baby food, formula, and other special dietary requirements. Doorways accepts gift cards to Giant and Safeway to offset our food cost. Learn more about our in-kind needs, and to donate to Doorways online via our Amazon Wish List, click here.